Samsung Accused of Inhumane Working Conditions in Factories by China Labour Watch [VIDEO]
Undercover investigation finds abuse of workers including child labour and excessive overtime is rife in Samsung and supplier factories
A report by human rights organisation China Labour Watch (CLW) claims that abuse of workers is rife in factories either owned by Samsung or in those that make parts for Samsung products.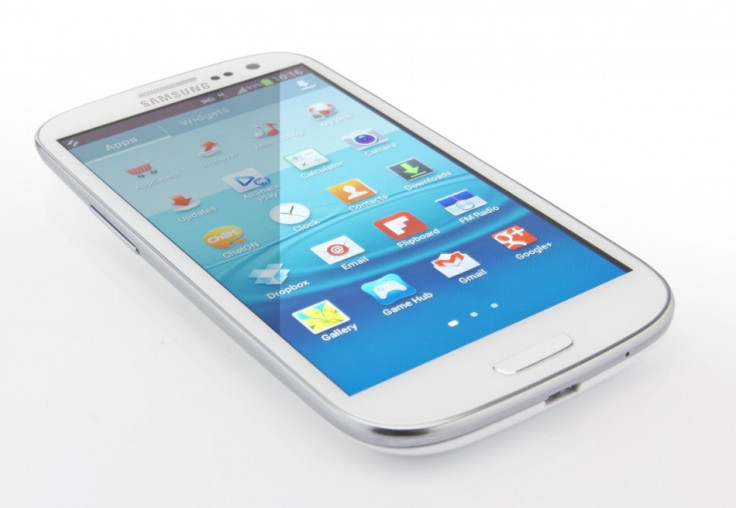 The CLW investigated eight factories - including six directly operated by Samsung and two supplier plants - by posing as workers or interviewing workers outside the factories from May-July 2012.
It found abuses such as forced overtime of over 100 hours imposed every month, unpaid work, staff being forced to stand for 11 to 12 hours while working, employment of underage workers, severe age and gender discrimination, abuse of student and dispatch workers, a lack of health and safety standards, and verbal and physical abuse.
It also found that workers lacked any effective internal grievance channel to complain.
The CLW said that in 2011 Samsung enjoyed profits of over $12bn and was ranked the 22nd largest corporation in the world by CNN.
"Naturally, the treatment of this corporation's manufacturing workers serves as a model for other businesses in the industry," the CLW's report into Samsung factories begins.
"New investigations by CLW have revealed that the treatment of Samsung's Chinese factory workers is far from model. Indeed, the list of legal and inhumane violations is long."
In response to the claims, the South Korean firm said it would "re-evaluate working hours."
"We frequently review our manufacturing facilities regarding overtime work," a Samsung spokesman told the BBC. "When new production lines are completed or new products are launched, high demand has led to overtime work."
After investigating the report, the company announced a six-point action plan to root out and crack down on any abuses.
Factories included in the report were Shenzhen Samsung Kejian Mobile Telecommunication Technology (SSKMT), Huizhou Samsung Electronics (SEHZ), Tianjin Samsung Electronics (TSEC), Tianjin Samsung Mobile Display (TSMD), Samsung Electronics (Shandong) Digital Printing (SSDP), Suzhou Samsung Electronics Company (SSEC), Tianjin Intops, and Tianjin Chaarmtech Electronic.
The study found that all the factories it looked into mistreated workers in one way or another, although factories directly owned and operated by Samsung were, in some aspects, not as bad as some as the supplier factories Samsung pays to produce its products.
Alleged abuses at the factories included:
1. Forced and excessive overtime
Every factory except SSKMT maintains overtime for at least half the year that reaches or exceeds 100 hours per month, sometimes with only one day of rest during the entire month. The legal limit in China is 36 hours.
2. Exhausting working conditions
Almost all factories require most workers to stand throughout their shift, even those that last 11 to12 hours. This happens even when factory technicians claim that from a production perspective, in many cases, standing is unnecessary. The rate of production during these long shifts is also very fast.
3. Extensive labour contract violations
Almost every factory failed to uphold workers' legal rights to a labour contract. These violations range from a blank contract, to not giving workers a copy of the contract, to no contract at all.
4. Forced work without pay
TSEC, SSDP, and Intops require workers to come into work up to 20 minutes early every day for meetings without any remuneration for the time. SSEC does not pay workers during some months in the year for overtime longer than 36 hours, instead giving them extra holiday time.
5. Inhumane treatment of workers
In at least two factories, TSMD and Intops, investigators discovered regular verbal and physical abuse of workers.
6. Abuse of underage workers
At least three factories - TSMD, SEHZ, and SSKMT - have been discovered hiring workers under 18 years of age, requiring them to do the same work as adults without providing extra protection. The SEHZ factory reportedly hires underage and changes the name on their ID card to the name of a past worker to create a facade of age legality.
7. Severe discrimination based on age, gender, other characteristics
Every factory but SSDP and SSEC restricted the age of new workers to only young workers - 16-20 years of age at the SEHZ factory. SEHZ was also reported as refusing to hire any person shorter than 1.55 metres or who wore tattoos or dyed hair, or had physical disabilities.
8. Abuse of labour dispatch workers
TSEC, TSMD, INTOPS, Chaarmtech, and SSEC hire a large part or all of their workers via labour dispatch companies, generally offering the workers an illegitimate contract or no contract at all.
9. Abuse of student workers
TSEC, TSMD, SSDP, SEHZ, and SSKMT extensively hire students directly from vocational schools. Many are underage and they often do not receive a legitimate contract; instead, the factory signs a contract with the school. Many are forced to accept this work as part of graduation requirements.
10. Charging workers inordinately high fees to be hired
Workers hired via dispatch and employment agencies must pay up to 800RMB (£80) per person, where the average monthly base wage for workers is less than 1,700 RMB. In addition, Intops, Chaarmtech, and SSEC charge workers up to 100 RMB for a health check.
11. Lack of worker safety
Intops and Chaarmtech do not provide any safety training for workers. In addition, investigators reported safety concerns in hazardous environments at SSDP, Intops and SSEC.
12. Dependence on overtime
Workers at Intops and Chaarmtech, both supplier factories, receive a monthly base salary of only 1,310 RMB, which is the minimum wage in Tianjin. The average monthly wage at these factories is around 3,250RMB, making these workers dependent on overtime to make a living wage.
13. No pay stubs
At SSDP, Chaarmtech, and SSEC, workers are not given pay stubs when wages are issued. At SSDP and SSEC, workers must access company computers to check their wages.
14. Discrimination in benefits based on personal identity
The TSMD factory provides more insurance benefits for workers who are Tianjin residents than non-residents.
15. Unfair and unreasonable rules
Almost every factory had regulations that were unfair. A few examples: at TSMD and Intops, sick days are recorded as "work absences", affecting the worker's performance grades and wages.
At SEHZ and SSKMT, workers are only allowed to leave the probation period and become formal employees during July, punishing workers who are hired in any other month. Also at SEHZ and Intops, workers pay hundreds of renminbi [official currency of China] in insurance costs without ever receiving insurance cards that would allow them to enjoy the benefits for which they paid.
16. Lack of any effective complaint mechanisms
Even when they suffered unfair treatment, workers at almost every factory lacked any effective channel by which to expressgrievances to management.
© Copyright IBTimes 2023. All rights reserved.