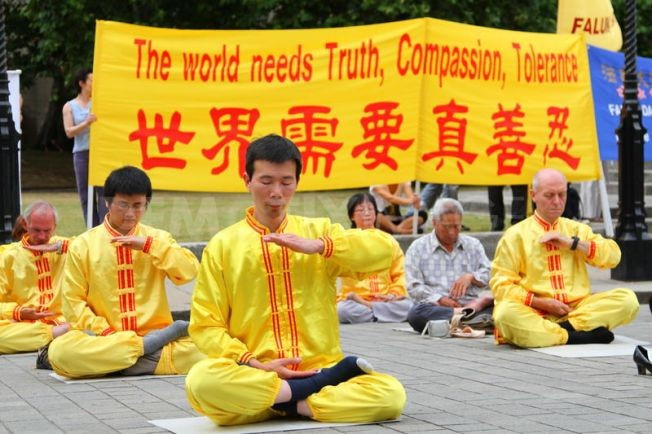 Chinese authorities Wednesday confirmed the incident, in which a man set fire to his clothes with a lighter, following a media silence on the events of Oct. 21.
The Daily Telegraph said a reader of the newspaper bore witness to the man's self-immolation and also photographed the aftermath as Chinese policemen scrambled to douse the flames.
"The man did it right in front of me," said Alan Brown, a retired RAF Engineer from Somerset.
"Without being melodramatic, he looked straight at me and set himself on fire," he recalled.
The paper said the incident is "thought to be the first act of self-immolation at the scene of the 1989 pro-democracy protests for more than a decade."
The Press department of the Beijing Public Security Bureau (PSB) has now confirmed the incident in a faxed statement.
"At around 11 o'clock on Oct. 21, 2011, [a man surnamed] Wang walked to the spot near Jinshui bridge, and suddenly set his clothes on fire. The policemen at the scene extinguished the fire within ten seconds and sent the man to hospital for treatment," the statement said.
"He has now pulled through. After investigation, Wang (male, 42, resident of Huanggang city, Hubei province) took the extreme action because of discontent over the outcome of a civil litigation in a local court."
In January 2001, five members of the Falun Gong movement allegedly set themselves on fire in protest against the violent suppression of the spiritual group by the Chinese government.
Two of the protesters died, including a 12-year-old girl. The incident remains controversial and Falun Gong have accused the Chinese authorities of staging the protest in order to justify its persecution of the movement's members.
Incidents of self-immolation against Chinese oppression have been on the rise in Tibet, too, where Buddhist nun Qiu Xiang recently became the 11th Tibetan to use the gruesome practice to protest against Chinese oppression in the country.