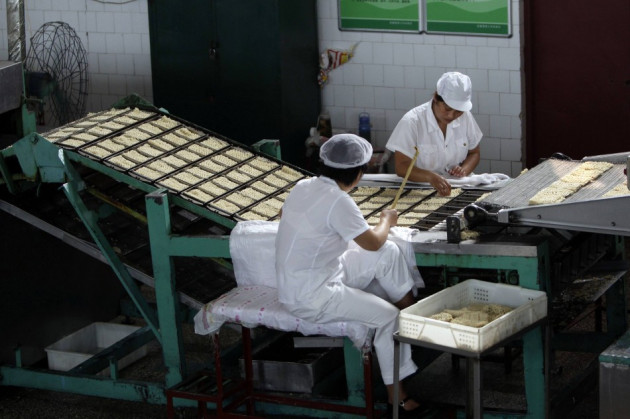 China's manufacturing sector contracted for the second continuous month in September, although at a slower pace than in August, adding further concerns over the world's second largest economy.
According to the Chinese National Bureau of Statistics, the manufacturing purchasing managers index (PMI) rose to 49.8 in September from 49.2 in the previous month. An index level below 50 is considered to be contractionary.
"The data continues to reinforce the hard landing that we have predicted for China, because this is the second consecutive month of a sub-50 reading," Prakash Sakpal of ING in Singapore, told Reuters.
"September PMI readings are normally fairly strong and we don't see that this month is that much better than last month."
Another manufacturing index published by HSBC in the previous week had shown an increase to 47.9 in September from 47.6 in the previous month.
The statistics bureau added that the market demand for food, beverages, computers and tobacco saw an increase while steel, refined metal and related construction materials remained weak.
Steel production in the country has taken a hit due to falling demand for the metal in the construction, ship building and automotive sectors.
China's largest listed steel producer, Baoshan Iron and Steel recently announced plans to suspend production at one of its factories to contain losses. Analysts expect similar action from other steel majors in the region.
The Chinese government had recently announced plans to boost its economy by investing in infrastructure to build highways, runways and ports.
The country's central bank said that it will "fine tune" its policies further to lessen the impact of the global economic slowdown while keeping an eye on the impact of monetary easing policies of the United States and Europe.
A Reuters poll showed that China's growth could slide to 7.4 percent in the third quarter before rising to 7.6 percent in the fourth quarter.