China and Norway officially rekindle diplomatic ties, ponder possibilities for trade agreements
Ties between the two countries have normalised after a six-year hiatus.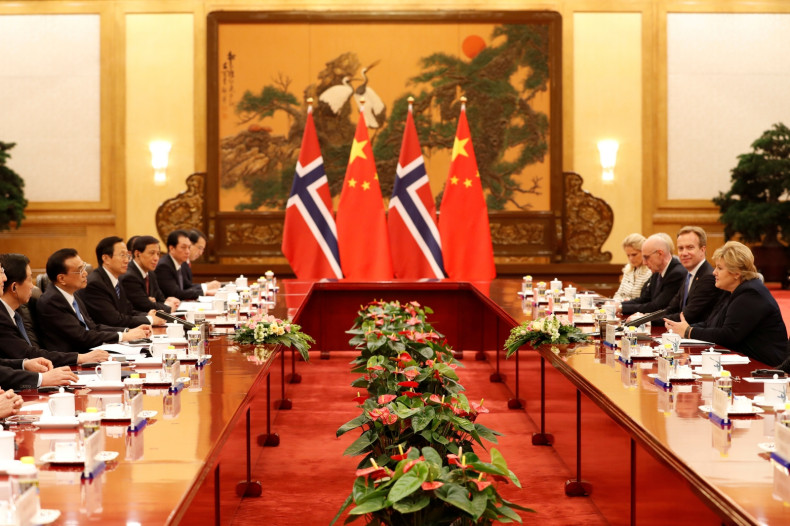 Norwegian Prime Minister Erna Solberg led a delegation on a three-day visit to visit China on Friday (7 April), in an official gesture to normalise diplomatic relations with China after six years.
She met Chinese Premier Li Keqiang and discussed the signing of a series of "cooperation documents" that include conducting negotiations for free trade agreements, Xinhua reported.
The visiting delegation has the largest number of representatives from the Norwegian business sector ever organised in a prime ministerial visit.
Members of the delegation are also scheduled to meet President Xi Jinping and visit the Peking University in Beijing. Trips to Shanghai and Guangzhou have been organised as well.
"China is our largest trading partner in Asia. The normalisation of our relations will create major opportunities for Norwegian businesses and for job creation. We also hope to resume negotiations on a free trade agreement with China," Solberg said prior to her visit.
Li expressed a similarly positive sentiment regarding the revival of ties between the two countries.
"China is willing to restart free trade agreement negotiation and political consultation mechanisms with Norway, establish an inter-governmental energy policy dialogue and increase the exchanges between the business community.
"China is pushing forward a new round of opening-up to make the country a most attractive investment destination. China welcomes Norwegian enterprises and sovereign wealth funds to expand investment in China for win-win outcomes."
Solberg's visit marks the first by a Norwegian Prime Minister to China in 10 years. Relations had previously soured after the Nobel Committee, which is based in Oslo, awarded the 2010 Nobel Peace Prize to literary critic and human rights activist Liu Xiaobo.
A Chinese court had previously convicted Xiaobo of seditious activities against the government and sentenced him to 11 years of imprisonment in December 2009.