The anticipated showdown between US President Donald Trump and his Chinese counterpart Xi Jinping in Florida is reported to have ended with little sign of confrontation as the two leaders vowed to make progress in resolving differences over trade and North Korea.
US Secretary of State Rex Tillerson touted the first meeting between the leaders of the two world's biggest economies as positive and described the discussions as "very frank and candid".
"President Trump and President Xi agreed to work in concert to expand areas of cooperation while managing differences based on mutual respect," he said, according to Reuters.
Trade ties between the US and China as well as North Korea's nuclear and missile programmes were at the top of the agenda during the summit, which Trump hosted at his Mar-a-Lago estate in Florida on 6 and 7 April. The summit was overshadowed by US missile strikes in Syria.
The two sides agreed to a 100-day plan to tackle their trade disputes by aiming to boost US exports and reducing China's trade surplus with Washington, according to Commerce Secretary Wilbur Ross.
"Given the range of issues and the magnitude, that may be ambitious, but it's a very big sea change in the pace of discussion," BBC cited Ross as saying. "I think that's a very important symbolisation of the growing rapport between the two countries."
Trump had toned down his anti-China rhetoric of his election campaign during the meeting, which he had tweeted last week saying it would be "a difficult one", Reuters noted. The POTUS also avoided any public lapses in protocol that Chinese official had feared might embarrass Xi.
"We have made tremendous progress in our relationship with China," Trump told reporters after the meeting. "We will be making additional progress. The relationship developed by President Xi and myself I think is outstanding. And I believe lots of very potentially bad problems will be going away."
Striking a positive note, Xi said he engaged in deeper understanding with Trump.
"I believe we will keep developing in a stable way to form friendly relations....For the peace and stability of the world, we will also fulfill our historical responsibility."
Trump replied: "Well, I agree with you 100 percent."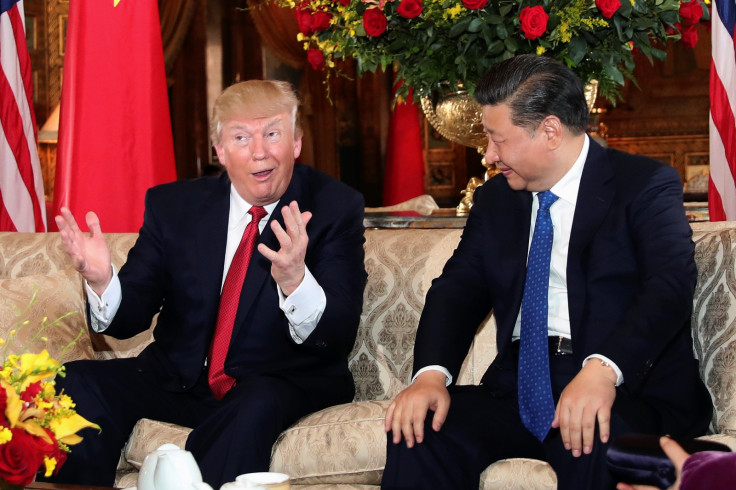 Trump and Xi also agreed to explore new ways to enhance military dialogue.
However, the two leaders appeared to have been at odds over how to deal with North Korea, although both agreed that Pyongyang needs to be contained from pursuing its nuclear weapons programme, Tillerson said. He did not provide concrete formula for cracking North Korean leader Kim Jong-un's defiant attitude.
Washington believes the reclusive state is developing an intercontinental ballistic missile that is capable of hitting the west coast of the US.
Trump has accepted Xi's invitation to make a state visit to China, Tillerson added, but he gave no other details.