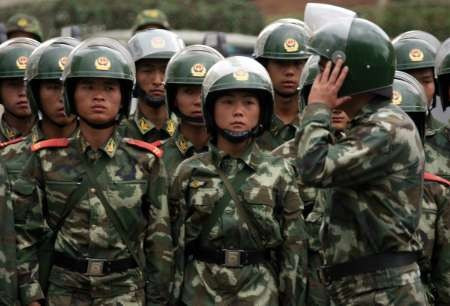 Armed men stormed a police station in China's restive Muslim province of Xinjiang on Monday, killing and wounding several policemen, taking hostages and setting the building on fire, according to a report from the state-run news agency Xinhua. Several attackers and some hostages were killed in the ensuing gun battle, and several people were wounded, according to the Xinhua report. The precise number of attackers and the number of casualties were not immediately clear.
The Western Chinese province of Xinjiang is the most resistive in China and has seen a rise in violence since 2009. However, it is the worst scenes of violence in nearly a year when in August seven Chinese military police were killed when member of Vighur minority rammed them with an explosive-laden vehicle.
The Situation in Xinjiang is now said to be "under control", according to state television. A team from the state anti-terrorism office is now on its way to the scene of the incident. Xinjiang government were not immediately available for comment reports Reuter's news agency.
Beijing often blames what it calls "terrorist groups" in Xinjiang for attacks on police or other government targets. The Chinese government claims that such groups work along side Al Qaeda or Central Asian militants to bring about an independent state called East Turkestan.
China has executed nine people it blamed for instigating the August riots and detained and prosecuted hundreds of others and ramped up spending on security, according to state media and overseas militant groups.
Xinjiang is strategically vital to China and Beijing has shown no signs of loosening its grip on the provenience. The area of land makes up one sixth of China's land mass and holds vital gas, oil and coal deposits.