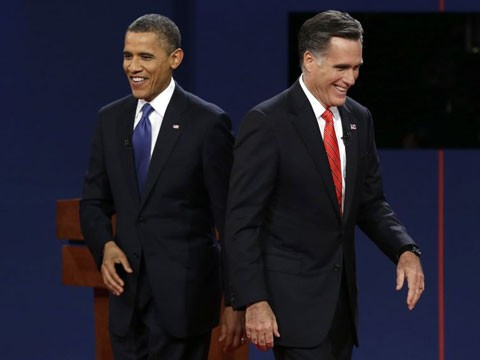 Early in November, the world's first and third largest nations by population have elections. On Tuesday, 06 November 2012, the third country by population (314.5 million) with the largest capitalist economy but also the one with the greatest debt, the United States, will elect a new President Romney or re-elect President Obama for a second term. Leaving aside what wonderful husbands both men apparently are and their equally wonderful, devoted wives and families who at times in the campaign also seem to be up for election, the world's largest state by population, China (1.34 billion) is featuring in both the economic and foreign policy quotations of the candidates, invariably in a rather negative manner.
The latest example was during the second Presidential Debate between the candidates on Tuesday 16 October when President Obama chided Mr Romney over his pension investments in (implied economic arch-rival) China, only to be asked by the ex-Governor of Massachussets:
"Mr President, have you looked at your pension? You also have investments in Chinese companies."
The fact of the matter is that there is hardly a major investment or pension company in America without a portfolio of Chinese companies on its books and the more likely question from a client perspective would be: "If not, why not?!"
Mr Romney in particular during the past year has been taking an increasingly hard line against China, branding it as a currency manipulator - amongst other sins - "artificially lowering their prices...stealing our intellectual property...and killing American jobs."
His latest harangue following this mantra was in Portsmouth, Ohio, a State which has lost tens-of-thousands of manufacturing jobs over the past decade. Mr Romney told a cheering crowd on 13 October:
"Let me tell you on Day One on my administration, I will label China a currency manipulator. We gotta get those jobs back and trade to be fair...It's time for us to stand up to China for their cheating. It's gotta stop."
The Republicans have regularly accused the Obama administration of "being soft" on China and on the same day, Mr Romney's running mate, Paul Ryan was making much the same argument further north in Youngstown:
"Two million jobs we've lost, according to the International Trade Commission, because of one country, China, taking our intellectual property rights..."
Part of this Republican line of attack is the luxury of being in opposition whereas the man of the moment on the tiller is much more circumspect in his comments knowing, as we all do, that China's meteoric rise in output during the last 20 years, is by no means the sole reason for the loss of manufacturing jobs in either the United States or the rest of the First World. President Obama is niggled to be sure as can be seen by his taunt at his opponent's pension plan but his language when speaking to or about China is much more diplomatic.
At the Asia-Pacific Economic Cooperation (APEC) Summit in November 2011, the President said that he welcomed the peaceful rise of China:
"...It is in America's interests to see China succeed in lifting hundreds of millions of people out of poverty... but we're going... to be firm in insisting that they operate by the same rules that everybody else operates under. We don't want them taking advantage of the United States or US businesses."
And on 14 February 2012 on welcoming China's Vice President Xi Jinping to the White House:
"...We have tried to emphasize that because of China's extraordinary development over the last two decades, that with expanding power and prosperity also comes increased responsibilities. And so we want to work with China to make sure that everybody is working by the same rules of the road when it comes to the world economic system, and that includes ensuring that there is a balanced trade flow between not only the United States, but around the world."
Time to put some figures around all this angst on China's newly found economic clout and the impact it is having on disturbing the old balances.
The latest US Government figures indicate that America's Gross Domestic Product (GDP) figures for 2012 will come in at roughly $15.5 trillion. Total National Debt has reached some $16.18 trillion of which foreign countries hold $5.45 trillion. The contentious portion, from challenger Mitt Romney's standpoint is that $1 trillion (more precisely $1.16 trillion) of this is owed to China. Although this figure has indeed risen during 2012, it is lower than the amount China held in June 2011, $1.31 trillion, and not far ahead of Japan's $1.12 trillion, which Mr Romney appears to have no quibble with.
Meanwhile, the combined level of Local and Central Government Debt in China according to an article in The Economist on 28 July 2012 is about $3.9 trillion, roughly a half of its $7.9 trillion economy, though other sources put China's Debt to GDP ratio closer to 40 per cent and the countries GDP growth has been slowing for the last seven quarters. Not that this is causing much concern in Beijing. Growth in the quarter to July 2012 was 7.6 per cent and this reduced more than the Chinese Government expected to 7.4 per cent for the quarter to September 2012.
This decrease in the rate of growth will not unduly worry China's paramount leader, Hu Jintao who broke away from the past drive for GDP growth at all and any cost - to people and the environment - which dominated policy during the tenures of Deng Xiaoping and Jiang Zemin. An engineer by profession before turning to politics, Mr Hu has placed greater emphasis on tackling China's social problems and mending its infrastructure than his predecessors though not forgetting the economy.
The issue which vexes American politicians the most however is the trade deficit that it persistently has with China and is at the heart of the jibes and accusations of stealing intellectual property and unfair exchange rates.
In 2011, the USA was China's single biggest trading partner with trade in goods and services between the two "partners" according to the United States Census Bureau was worth $503.3 billion but with America's imports amounting to nearly $400 billion, it left the country with a deficit of $295.4 billion and the figures to August 2012 show a deficit of $203.1 billion.
It has to be pointed out however that China runs a fairly continuous deficit with several countries - even Russia last year. Just not with the United States. Indeed, in 2011, China was the world's biggest exporter - $1.9 trillion worth. It was also the world's second biggest importer, and it is thought could be the biggest before 2015. Last year, China's import bill totalled just short of $1.75 trillion.
And here's the good news for America, its President and his Challenger. As the dollar is the world currency China just loves it and although the breakdown of China's total Foreign Exchange Reserves is a secret, these total $3.24 trillion. It is widely believed that of this total which includes Gold, Special Drawing Rights and Foreign Exchange, the Greenback itself is between 50 and 60 per cent.
There won't be any run on the Dollar either side of America's Election!