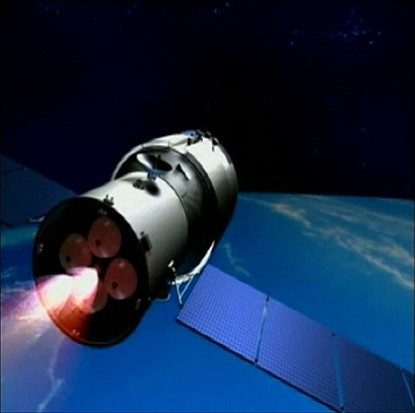 China's next space mission will carry three astronauts and attempt to dock with an experimental module launched last year, state media reported.
The Shenzhou-9 spacecraft will be launched aboard its Long March 2F rocket sometime between June and August.
It will attempt to manually dock with the Tiangong-1 (Heavenly Palace) module, which was launched on 29 September as part of China's exploratory preparations for a space lab, the state news agency Xinhua reported.
It will be China's fourth manned space mission since 2003, when astronaut Yang Liwei orbited Earth 14 times, becoming the country's first man in space.
The new mission will be an opportunity for China to test its docking technology and for the astronauts to conduct experiments, Xinhua said.
China completed its first space rendezvous last year, when the unmanned Shenzhou-8 docked with the Tiangong-1 by remote control. The mission was considered a breakthrough since early US astronauts accomplished a similar feat manually.
Chain aims to put a man on the moon and have a fully-fledged space station by 2020.