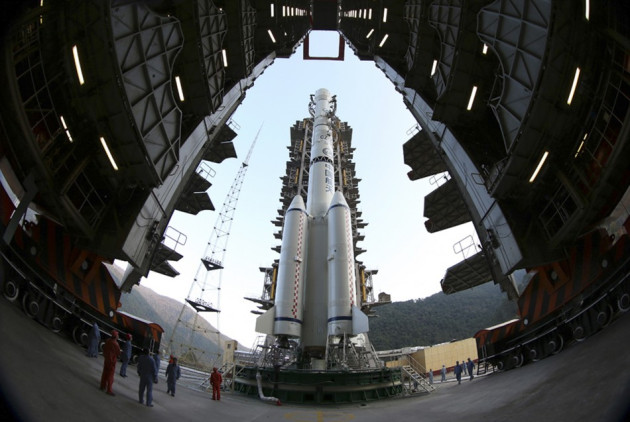 China's "long march" into the space has hit another milestone with the successful launch of its first lunar rover, Chang'e-3.
The Long March-3B rocket blasted off from the Xichang Satellite Launch Centre in southwest China, carrying the probe that is expected to make a "soft-landing" on the moon mid-December.
If successful, the unmanned craft will release a six-wheeled lunar rover onto the moon's surface, making China only the third nation after the US and the former Soviet Union to make a soft-landing on the moon.
Coming a decade after China sent an astronaut into space, the launch of Chang'e-3 is China's biggest step in deep space exploration in recent times.
"The probe has already entered the designated orbit ... I now announce the launch was successful," said Zhang Zhenzhong, director of the launch centre in Xichang.
"We will strive for our space dream as part of the Chinese dream of national rejuvenation," he said, according to China Daily.
China nurses an ambitious plan to send a manned lunar mission more than forty years after the US first sent a man to the moon. Chinese scientists said a successful rover landing will give them vital inputs for a manned mission, the roadmap for which has not yet been revealed.
The Chang'e-3 mission is the second phase of China's lunar programme. In this mission China aims to soft-land the craft on the moon, after Chang'e-1 intentionally crashed onto the lunar surface in 2007.
In the third and final stage of the programme, which is planned for 2017, Chinese space scientists aim to land a lunar probe, release a moon rover and return the probe to earth.
A successful Chang'e-3 mission will give China the ability of exploring an extraterrestrial body as it is, a top mission scientist told the daily.
"China's space exploration will not stop at the moon ... Our target is deep space," said Sun Huixian, deputy engineer-in-chief in charge of the mission.
Earlier, Xinhua had reported that the Chang'e-3 spacecraft will release the "Jade Rabbit", a six-wheeled lunar probe. The rover will patrol the moon's surface for at least three months and dig up soil samples, besides capturing images.