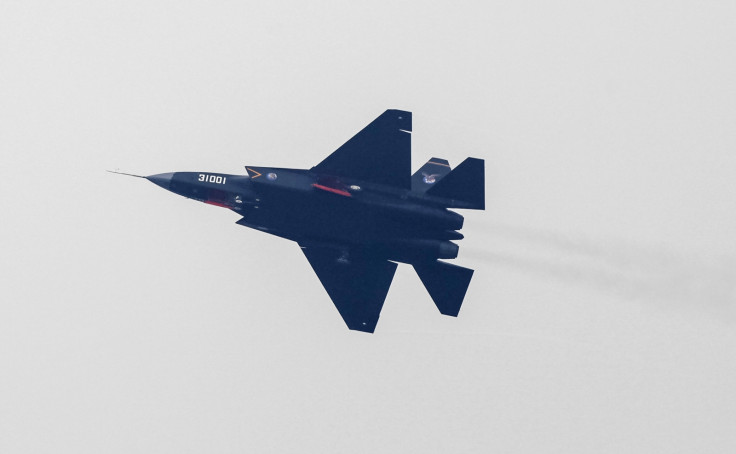 China has tested its fifth generation stealth fighter jet, FC-31 Gyrfalcon, as Beijing ramps up efforts to end the western monopoly on sophisticated aircraft technology. China's advanced radar-evading warplane would be sold at nearly half the price of its competitor.
The FC-31 Gyrfalcon, an upgraded version of the J-31 stealth fighter, made its maiden flight in the northeastern city of Shenyang on Friday (23 December), though news about the test emerged only later. An aviation industry source has confirmed to the state-run China Daily that the prototype was tested but did not divulge more details.
The test coincides with China's increasing military activities, including the deployment of its only aircraft carrier Liaoning in the western Pacific for exercises.
The latest Chinese prototype, a twin-engine jet, directly challenges the monopoly of US-manufactured F-35, widely considered as the world's most technologically advanced fighter jet, and is expected to be sold at about $70m (£57m).
An aviation expert, Wu Peixin, was cited as saying by the Chinese daily that the newest version of the J-31 is equipped with "better stealth capabilities, improved electronic equipment and a larger payload capacity" compared to the earlier versions.
"Changes were made to the airframe, wings and vertical tails which make it leaner, lighter and more manoeuvrable," said Wu. The jet, manufactured by the Shenyang Aircraft Corp which is a subsidiary of the Aviation Industry Corporation of China, can carry up to eight tonnes of weapons – meaning six missiles in its internal bay and another six under its wings.
However, the real challenge for Beijing would be to capture the market share from the existing players. An aircraft expert who is aware of the Chinese market, Fu Qianshao, said: "I believe the aircraft will have bright prospects in the market. Based on my experience and knowledge, I presume its price will be around $70 million, about half that of the United States' Lockheed Martin F-35 Lightning II. Moreover, the fourth-generation Eurofighter Typhoon and Dassault Rafale fighter jets are priced at about $100 million. All of these mean you can spend a lot less money to get an advanced, fifth-generation stealth combat plane."