The Pentagon has said that two of its B-52 bombers flew near China-built islands in the South China Sea despite being warned by Chinese air-traffic controllers. The planes did not fly within 12 nautical miles of any of the man-made islands that Beijing claims as part of its territory, according to the US Department of Defence.
They reportedly made the flight overnight on 8-9 November from Guam before returning to the island. Chinese air traffic controllers warned the bombers over their flight path, but they continued their mission undeterred, commander Bill Urban said on 12 November.
"The B-52s were on a routine mission in the SCS (South China Sea)," he was quoted as saying by Reuters.
Territorial disputes
China has grown increasingly assertive on maritime territorial disputes with South East Asian nations in recent years, with the country claiming most of the South and East China seas as part of its sovereign territory. Beijing has also built artificial islands in the midst of a reef system in the South China Sea known as the Spratly Islands - increasing tension with Taiwan, Vietnam, the Philippines, Malaysia and Brunei, who all have overlapping claims on the territory.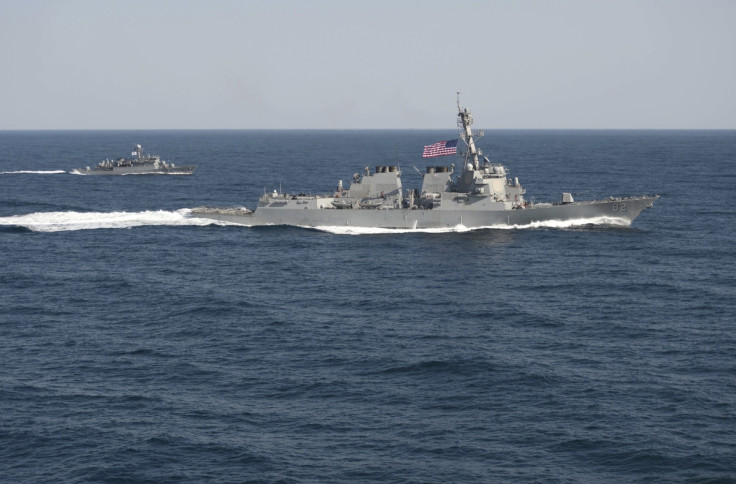 A Pentagon spokesman, meanwhile, said the flight of the bombers was not meant to challenge China's territorial claims. "We conduct B-52 flights in international air space in that part of the world all the time," Peter Cook said.
The incident comes days before US President Barack Obama travels to the region for the Asia Pacific Economic Co-operation Summit and the annual Association of South-East Asian Nations meeting, where territorial disputes are likely to be high on the agenda.
Last month, a US guided-missile destroyer, the USS Lassen, breached the 12-nautical mile zone China claims around the Subi and Mischief reefs in the Spratly Islands as part of its Freedom of Navigation programme.
Beijing reacted angrily to the incursion, with the Communist government warning that it would "resolutely respond to any country's deliberately provocative actions". The Chinese foreign ministry summoned the US ambassador to protest over the incident.