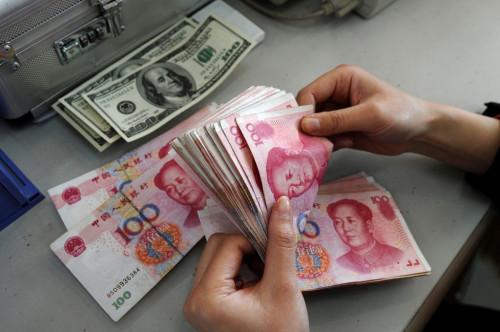 China's holdings of US government debt surpassed the $1.3tr mark in October, a first in nearly two-and-a-half years, a month after the US Federal Reserve decided to stick with its bond-buying stimulus plan.
China, America's largest foreign creditor, increased its ownership of US Treasuries by $10.7bn, or 0.8%, to $1.304tr in October, the US Treasury Department said on 16 December. China held a record $1.314tr in July 2011.
US government securities held by overseas investors have increased 1.4% this year, on track for their slowest rise since the Treasury began putting out annual data in 2001.
Foreign holdings rose even as US politicians faced a deadlock on the nation's spending and borrowing limits, which lasted until a day before the world's largest economy ran out of cash to pay its bills.
The treasuries data came ahead of a two-day meeting of Fed policy makers. The world's most powerful central bank will announce its last monetary policy decision for the year on 18 December.
A majority of economists polled by Bloomberg, on 6 December, said the Fed would not trim quantitative easing this week.
"As money enters that country, that gets turned into intervention, and that intervention gets turned into Treasuries," said John Briggs, a US government bond strategist at RBS Securities in Stamford, Connecticut, one of 21 primary dealers that trade with the Fed.
"When they didn't taper a lot of pressure came off of those markets and some money flowed into emerging markets, including China," Briggs told Bloomberg.
"It was some pent-up buying post shutdown resolution," said Shyam Rajan, an interest-rate strategist in New York at Bank of, a primary dealer.
"People wanted to buy after the no-taper decision, but probably didn't go all-in because they had the debt ceiling and shutdown to be resolved," Rajan added.
Annual Increases
China increased its holdings by 6.9% in the months to October and is on track for the biggest gain since its stake in Treasuries rose 30% in 2010.
Japan boosted its Treasury ownership by 5.7% through October and is on track for its sixth annual increase.
Hong Kong's holdings of Treasuries increased 7.8% or $9.8bn, to $136.3bn.
Luxembourg's Treasuries stock fell 5.5%, or $7.8bn, to $133.3bn.
Holdings by members of the Organization of Petroleum Exporting Countries (Opec), who together supply about 40% of the world's oil, fell 3.7% to $236.6bn, the lowest since May 2011.
Fed Shocker
The Fed surprised economists in September by announcing it would stay the course and not start paring back its $85bn-a-month bond-buying stimulus.
On 18 September, the Fed defied market consensus and decided against reducing its massive monthly asset buys as the pace of economic growth in the US did not justify a reduction in monetary stimulus.
In addition, Fed Chairman Ben Bernanke refused to clarify whether the Fed would taper its bond purchases at all this year. Instead, he asserted that the programme was "not on a preset course."
In June, Bernanke said the Fed could begin pruning its asset buys later this year if the US economy continued to improve, as officials expect it to, and could end its purchases by mid-2014.