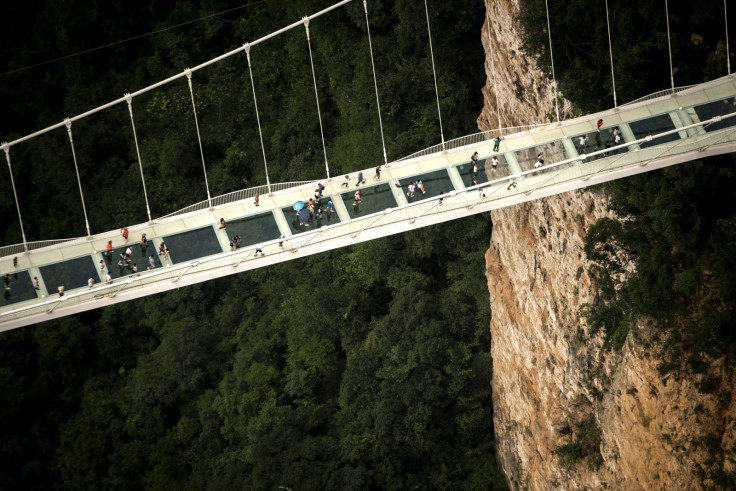 China's glass-bottomed bridge, the world's longest and highest bridge, has closed for maintenance on Friday (2 September). The bridge hanging over the country's Zhangjiajie Grand Canyon was opened for visitors on 20 August.
However, the 430m-long bridge that covers a magnificent canyon between two mountain cliffs in central Hunan province was forced to close just 13 days after its opening because of the huge demand. "We're overwhelmed by the volume of visitors," a spokesperson from the Zhangjiajie Grand Canyon's marketing and sales department said, adding that the grand structure can accommodate around 8,000 visitors a day but the total demand was 10 times as much.
So, the attraction's management decided to close the grand structure worth $3.4m (£2.6m, € 3.05m). A statement posted by the authorities on their official Weibo account — a Chinese microblogging site — said, the management has taken the decision due to the "urgency to improve and update" the facility.
The park authorities had suggested 5 September as a closing date to accommodate travel agencies who "have already included the Grand Canyon and the glass bridge into their itineraries", but the local government decided to close services on 2 September.
The decision has received a mixed response from visitors.
One Weibo user, XiaoMOMOYa, wrote on the microblogging site, "I have booked everything and now you are saying you are closed... Are you kidding me?" Another user appreciated the decision and said, "The Scenic Area is deficient. There's trash everywhere and no bottled water for sale. It's right to reopen only after they've cleaned up the place."