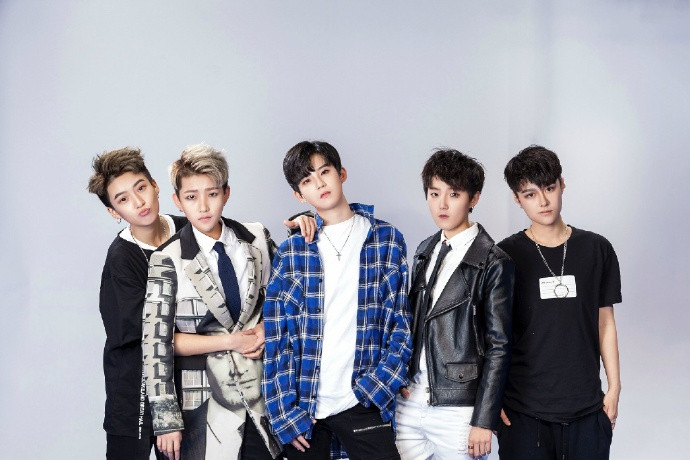 One of the hottest new boy bands in China, FFC-Acrush, have forged a unique niche for themselves after revealing they are actually female singers.
The unisex five-piece made the surprise announcement at a "Husband Exhibition", a music event series held across national universities by China's social media network giant Tencent.
Intended to highlight leading pop acts, the term "Husband" playfully references how Chinese female fans describe musicians they fantasise about marrying.
However, at the exhibition's last stop in Zhejiang province, the group revealed to fans that, far from being cute male heart-throbs, they are in fact all women — "mostly in their twenties".
The group, comprised of Lu Keran, An Junxi, Peng Xichen, Min Junqian and Lin Fan, are set to release their debut album in April, but have already amassed 900,000 followers on the Chinese Twitter-equivalent, Weibo.
This puts them only marginally behind US pop behemoth Katy Perry, who has one million fans on the network.
Following the reveal, the band's agent, Zhou Xiaobai, told Quartz that the letter "A" in Acrush stands for Adonis, a god in Greek mythology reflecting epitome of male beauty.
"A group advocating freedom, not bounded by frames" is Acrush's distinguishing concept, according to Zhou, who says the use of "boy" or "girl" will be scrapped in favour of the carefully chosen a gender-free phrase, meishaonian, or "handsome youths."
Acrush mark an long-held attempt to capitalise on the success of unisex pop-idol Li Yuchun, who found widespread fame after winning nationwide talent show Super Girl in 2005, only to spawn a wave of less successful copycat acts.
Founded by Zhejiang Huati Culture Communication Co. Ltd, the group have been a commercial vehicle from the outset. Intrinsically tied to the Fantasy Football Confederation, the act are hence formally known as FFC-Acrush.
This means all of the group have needed to learn to play football and make it part of their performances.
Lu, the youngest member of the band, aged 18, admits she had never played the sport before joining Acrush. However, she enjoys the training, "even as we get injuries sometimes".
The teenage star added that she has always dressed in an androgynous fashion and started wearing her hair short after cutting it for fencing aged 10.
It is estimated than 15% of Acrush's Weibo followers are trolls who insult the group for their looks, but Lu remains steadfast. She says she does not care, so long "as they are happy".