Police in China are embracing a "Black Mirror" approach to law enforcement, mixing Google Glass-style eyewear with facial recognition technology to catch criminals.
Officers in Zhengzhou, a city in China's Henan province, are using the smart-glasses to scan travellers passing though the entrances of crowded areas including busy train stations. According to AFP, the biometric-scanning abilities are cutting-edge.
The glasses are equipped with a camera connected to a "smartphone-like device" that lets officers snap pictures of anyone they deem suspicious.
In real time, the glasses compare the snap to a massive database of mugshots back at HQ. It shows the target's name, gender, address and ethnicity and highlights whether they are wanted for any crime, AFP reported, citing state owned outlet People's Daily.
Police in Zhengzhou said the technology had resulted in seven arrests. Charges included human trafficking and hit and runs.
China has a burgeoning surveillance state. Its advancements in facial recognition and data collection are often compared to Orwell's novel 1984 and Philip K Dick's Minority Report.
The rapid growth of biometric scanning has led to a slew of commercial applications being designed for use in gyms, restaurants and even public toilets. Human rights activists, however, warn that mass data collection is likely to be abused.
In 2017, it emerged that Chinese law enforcement was using a system known as "Police Cloud", built by the Ministry of Public Security, to monitor "extreme thoughts". The programme, according to Human Rights Watch (HRW), will be rolled out nationwide.
It is believed to collate a swathe of personal information including medical histories, flight and train records, biometrics, national ID numbers, addresses, family relations, birth control methods, religious affiliations and even supermarket delivery records.
It is seemingly designed to help police track where certain individuals have been, who they travel with and what they have been viewing online, the organisation said.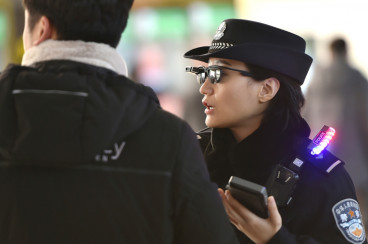 "Until China has meaningful privacy rights and an accountable police force the government should cease these efforts," said Sophie Richardson, China director at HRW.
On Monday (5 February), the South China Morning Post reported that thousands of law enforcement officers are already equipped with "panoramic-view body cameras" that come with in-built facial recognition technology.
The high-tech cameras offer 720-degree, high-definition recording.
The developer, Beijing's Nebula Science and Technology, claimed that they can automatically detect, track and focus on "aggressive" suspects.
In December, it emerged that China was testing a system called the Social Credit Score (SCS) that would let citizens rate each other's behaviour. The resulting score would then become the foundation for an individual's level of trustworthiness, reports suggested.
Also in December, a BBC reporter was tasked with testing out the capabilities of China's massive CCTV surveillance network by trying to evade it. He was tracked down in seven minutes.