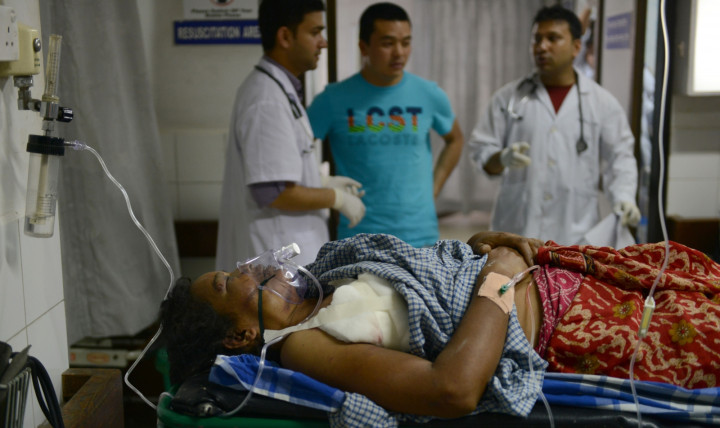 Flooding and mudslides have killed dozens of people in Nepal, and health officials are now battling to prevent a cholera outbreak with thousands lacking access to clean water.
Three days of monsoons have caused flooding that has killed 85 people, and left more than 100 others unaccounted for, said the Nepal Health Ministry.
Roads across the country's western plains bordering India have been flooded, and police forced to rescue stranded people using by helicopters.
"We are very concerned about a possible outbreak of cholera due to the bodies lying underwater," national disaster management chief Yadav Prasad Koirala told AFP. "We have mobilised health workers to set up camps and provide people with clean drinking water and dry food."
A major bridge on one of the country's main arterial roads was closed by authorities, as rain caused cracks to appear in the structure and it collapsed.
As the rain relented on Saturday, the army evacuated the Bardiya district, where thousands were stranded.
"We have evacuated 18,200 people in Bardiya and moved them to relief centres where they can get help," Home Ministry spokesman Laxmi Prasad Dhakal told AFP.
"Our main worry now is of a possible cholera outbreak among the affected people.
"We have not seen any cases yet, but the health ministry has established camps to prevent any epidemic."
Corpses poisoning water
Cholera, which causes severe diarrhoea, vomiting and dehydration, is spread by eating or drinking contaminated food or water.
As water levels slowly recede, many remain missing.
"We are working hard to find the missing 113 people. Our choppers have been running sorties, but it's a struggle," said Koirala.
The floods come weeks after the worst landslides in recent history in Nepal, as mud smashed into hamlets in north eastern Nepal, killing 156 people.
Heavy rain in Uttarakhand state in neighbouring India has claimed at least 24 lives since Friday, reviving memories of a deluge last year that killed more than 5,000 people in the same region.
Last year, lawyers representing victims of a cholera epidemic in Haiti in 2010 sued the UN.
They claimed Nepalese soldiers sent to a refugee camp in the country were responsible for an outbreak of the disease.
An outbreak of the disease in Nepal after the monsoon season in 2009 infected 50,000 people and killed 268, according to the Red Cross.