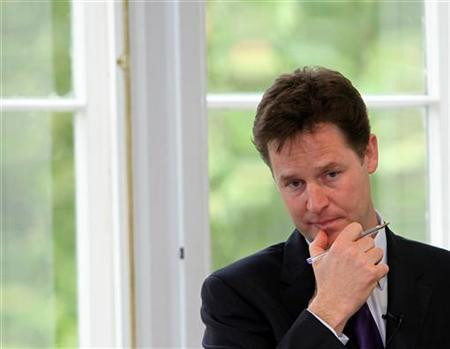 David Cameron is said to be eyeing up possible replacements for Energy Secretary Chris Huhne after it was announced Essex police has passed a file to prosecutors who will decide whether the Liberal Democrat cabinet minster will stand trial for allegedly asking his then wife to take speeding points for him.
If Mr Huhne was put on trial he would be forced to resign from his cabinet position. ''Essex Police can confirm that a file has been passed to the Crown Prosecution Service today," a spokesman for Essex Police today said
The Crown Prosecution Service (CPS) must now decide whether any charges should be brought against Mr Huhne. The CPS said the file - which relates to both Mr Huhne and Ms Pryce - would be assessed by a lawyer in its Special Crime and Counter-Terrorism Division, who will decide whether charges should be brought. Director of Prosecutions Keir Starmer will take the final decision in the case, after it was considered by lawyers.
On the evening in question Mrs Price attended a dinner at the London School of Economics, 50 mile away from where the offence took place. Mrs Pryce could face the same charges of perverting the course of justice, which carries a potential jail sentence.
The speeding case is alleged to have taken place in 2003 when the MEP was driving home from Stansted Airport after flying back from the European Parliament. Mr Huhne rigorously denies asking anyone else to take the points. At the time Mr Huhne welcomed the probe as a chance to "draw a line under the matter" and said the claims were "simply incorrect".
There is growing speculation that David Cameron is considering replacing the Energy Secretary. Mr Cameron and Mr Huhne have been at loggerheads since May after Mr Huhne accused both Cameron and George Osborne of dirty tactics during the alternative vote referendum campaign. Mr Cameron is said to be keen on Liberal Democrat business minister Ed Davey, who is also close to Nick Clegg, to take over from Mr Huhne, although no public announcement has been made.
Mr Huhne has been cleared by the Electoral Commission of any wrong doing over his election expenses. The Electoral Commission promoted a probe into Mr Huhne's election website after complaints the Liberal Democrat MP had under reported the amount spent. The cost of the campaign website was £45.15 but Mr Huhne reported it to be £35. The commission have reported back that there was no serious wrong doing and the correct figure still left Mr Huhne well within the spending limits.