Chelsea midfielder Eden Hazard has revealed he maintains contact with compatriot Christian Benteke and supports his desire for a summer transfer. The 22-year-old Benteke made an explosive impact on the Premier League last season, smashing 23 goals on his way to saving Aston Villa from relegation.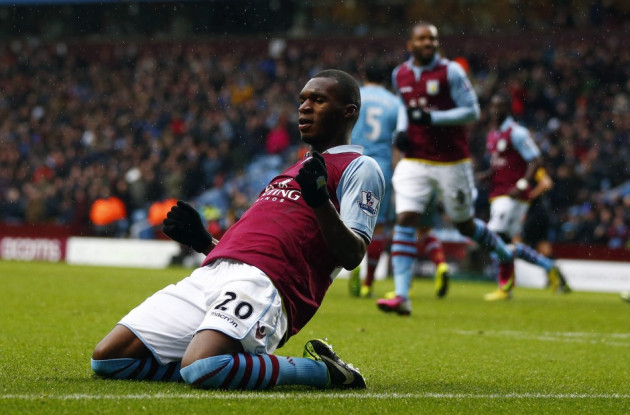 That kind of form saw the league's top clubs take notice and Tottenham have emerged favourites to sign the striker, particularly since Andre Villas-Boas lost Spanish international David Villa to Atlético Madrid.
"We get on very well. He had an unbelievable first season for a young striker in the Premier League. His dream is to play even higher. As for his decision, I think it's the right one because he has the quality to impose himself and to make his mark at any club. So, I wasn't surprised, no," Hazard, who is himself also only 22 years old, said.
Benteke has submitted a formal transfer request and it is understood Spurs have offered a player/cash deal to the Villans, who value their star £25m, according to the Mirror. AVB, on the other hand, is reportedly keen to use fringe players from White Hart Lane to reduce the cash outflow as much as possible.
Hazard's interest in Benteke's fortunes may come closer home than north London though, with Goal.com reporting he may become a target for Jose Mourinho. The Special One is understood to be revamping his forward line, which consists only of a misfiring Fernando Torres and Senegal international Demba Ba.
Manchester United's Wayne Rooney remains strongly linked to the Blues but targets like that (or Liverpool's Luis Suarez or Bayern Munich's Mario Gomez) will be expensive signings. Benteke, by contrast, is relatively cheaper and he fits Mourinho's preferred striker profile - a physically powerful forward who can hold the ball up and bring team mates into play.
"He told me: "Right, I've done well. What next?" I think he's got all the attributes to do well at a big club. I don't know if that will be Chelsea. It's not my decision," Hazard explained, adding, "We've heard all the names: Rooney, Xabi Alonso, De Rossi. It's exciting. Rooney would be a brilliant signing. He's a great player who has the experience, and he's still only young, at 27. But it's not up to me. It's not my decision."
Finally, Hazard admits he is excited at the prospect of playing under Mourinho.
"You have to adapt to a new manager overnight. With Mourinho, though, we know what he is. I know that, with him in charge, we win matches and claim trophies. He'll do everything he can to put that in place, to create the environment for us. If we all give 100 per cent we have a real chance of winning the title," he concluded.