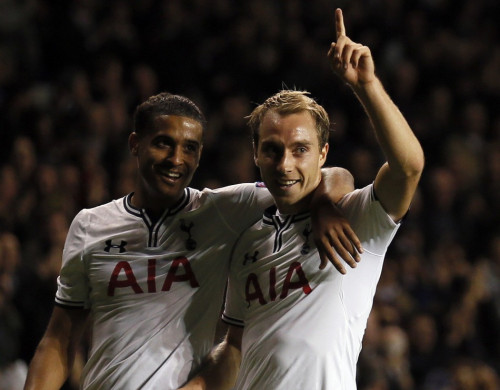 Christian Eriksen wants to turn Tottenham's fortunes around for good with a win over Manchester City tomorrow as Spurs look to solidify their place in the top four.
After losing to City 6-0 the last time the two sides faced one another, with the loss serving as a factor in the eventual exit of Andre Villas-Boas, the north Londoners are desperate to show that they can now stand tall alongside the Premier League title favourites.
Tim Sherwood has already made changes since taking over the managerial post in December including bringing Emmanuel Adebayor back into the fold with great success and Eriksen believes that this is Tottenham's chance to prove they are back on their game.
"Hopefully we can put it right now. Everybody wants to be 110% for this game," Eriksen said in a press conference.
"Everyone knows you have to be on your toes when you play City. We have to be at our top level and that is what we want to achieve."
Tottenham are currently outside the top four but only on goal difference with their thrashing at the hands of City alongside a 5-0 loss to Liverpool seriously hurting the side at the end of last year.
They will also be wary of threats coming from Everton and Manchester United, the latter who just broke their transfer record to snare Juan Mata, in the fight for Champions League qualification this season with Chelsea, City and Arsenal all looking to be ahead in the race for the title at this stage.
After the City fixture Tottenham face Hull away and then Everton at home, followed by a tough match-up with Newcastle at St James Park that will put Sherwood's managerial skills to the test with activity currently looking unlikely in the January transfer window.