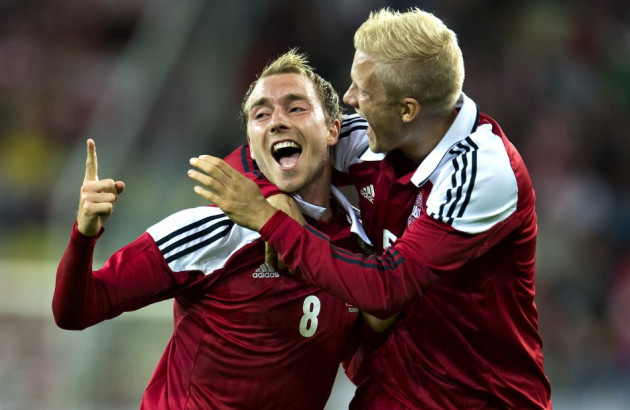 Tottenham Hotspur and Liverpool's hopes of signing Ajax midfielder Christian Eriksen have been all but ended after the player's agent insisted only a move to a Champions League club will be considered.
The 20-year-old has been strongly linked with a move away from the Amsterdam Arena over the past year having entered the last 12 months of his current contract.
Eriksen has had no shortage of suitors with agent Martin Schoots confirming clubs from Serie A and the Bundesliga have been in contact over a possible move ahead of the new campaign.
But despite both Brendan Rodgers and Andre Villas-Boas both reportedly keep to sign him, Eriksen will not contemplate a move to a club who are not involved in Europe's premier competition.
"There has been contact with a club from Germany and one from Italy," Schoots told Italian outlet Tutto mercato web.
"He will only leave Ajax to join a team that are automatically qualified for the Champions League and fighting for the title every season."
With England's quartet of Champions League clubs yet to bear interest in Eriksen, it would appear the Premier League will miss out on the promising midfielder.
Any lingering hopes Tottenham or Liverpool may harbour of luring the player to the Premier League next summer when he is out of contract and available on a free transfer have also been quickly squashed, with Schoots insisting that under no circumstances will Eriksen deprive the club who developed him of a reasonable transfer fee.
"He is still very young, very appreciative towards Ajax and happy to stay," Schoots added. "At the moment we are not in talks with Ajax but we will be if a move doesn't materialise in this window.
"One thing is for certain, he won't leave on a free transfer."
Eriksen finds himself in a similar position to his Ajax teammate Toby Alderweireld. The Belgian centre half is also in the final year of his contract but has maintained he will happily extend his stay in Amsterdam should he not receive an offer from a club that matches his sporting ambition.
The 24-year-old rejected the opportunity to join Norwich City earlier this summer with Newcastle United now reportedly hoping to sign the defender.