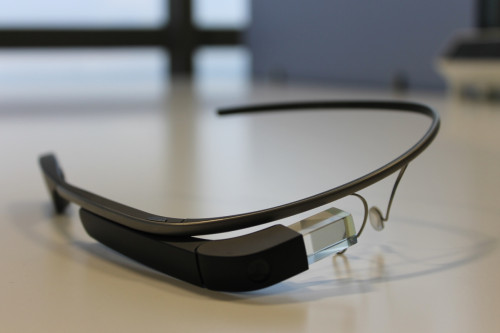 American cinema chain AMC has deemed wearing Google Glass while watching its films as inappropriate behavior, following an incident which saw a Glass wearer removed from a screening and questioned by law enforcement officers.
The unnamed Glass wearer, who bought the head-warn gadget from Google for $1,500 (£908) and paid a further $600 to have his prescription lenses attached to it, caused a stir after recounting his experience, which saw him and his wife removed from a film under suspicion of illegally recording it.
Google Glass features a heads-up display which projects information into the user's right eye; the gadget, which is still a prototype and not on sale to the general public, also has a front-facing camera for taking photos and recording video.
Telling his story of how police and officers from Homeland Security's Immigration & Customs Enforcement (Ice) unit removed him for the screening of Jack Ryan: Shadow Recruit, the man told The Gadgeteer: "A guy comes near my seat, shoves a badge that had some sort of a shield on it, yanks the Google Glass off my face and says 'Follow me outside immediately'."
The man claims he was then questioned for around 3.5 hours until 11:30pm on 18 January before being released, reunited with his wife, and offered four free tickets to see the film again - an offer he said "infuriated" him.
Voluntarily interviewed
In the wake of his story appearing online, and being picked up by news sites around the world, AMC said: "Movie theft is something we take very seriously, and our theatre managers contact the Motion Picture Association of America anytime it's suspected that someone may be illegally recording content on screen.
"While we're huge fans of technology and innovation, wearing a device that has the capability to record video is not appropriate at the movie theatre."
The man was not arrested or charged, and was instead told he was being "voluntarily interviewed".
Suspected recording device
Initial reports that he was questioned by FBI agents turned out to be false, when Ice division spokesperson Khaalid Walls confirmed to The Columbus Dispatch: "On Jan. 18, special agents with Ice's Homeland Security Investigations and local authorities briefly interviewed a man suspected of using an electronic recording device to record a film at an AMC theater in Columbus.
"The man, who voluntarily answered questions, confirmed to authorities that the suspected recording device was also a pair of prescription eye glasses in which the recording function has been inactive. No further action was taken."
Interest, excitement and controversy
Since Google Glass was offered as a $1,500 prototype to a limited number of developers, or 'Explorers' last year the device has caused as much interest and excitement as it has controversy.
Amid privacy fears stemming from its camera, the device had already been banned from select cafes, casinos and cinemas before the AMC incident took place.
The law is also unclear on its acceptance of Glass use while driving. While developers believe a head-up display offering current speed, notifications and driving directions would be better than looking at a screen in the dashboard, road safety campaigners want the device outlawed.
A spokesperson for UK-based road safety pressure group Brake told IBTimes UK last year that driving with Glass presents "a major distraction and crash hazard."