Cisco has paired its Linksys range of smart Wi-Fi routers with a set of cloud-based apps to make using, protecting and setting up a home network as easy as possible.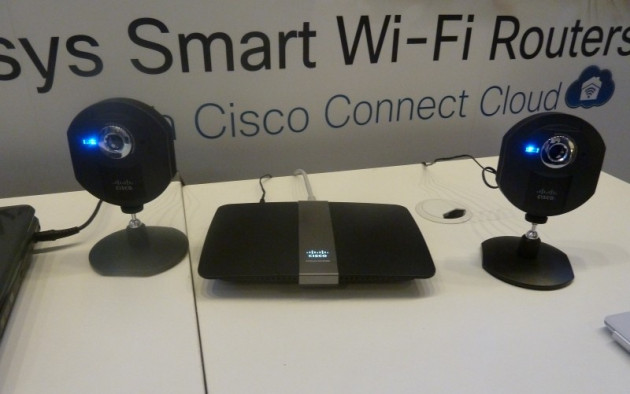 Key Features:
Cisco Connect Cloud software and apps
Quickly connect devices using SimpleTap and NFC
Easy way to offer guest access
Prioritise the most important traffic
Router price: £129.99
Cisco Connect Cloud Apps: Overview
"Our objective is for you at the end of the day to say, 'Wow this is different'," said Chris White, VP of Emerging Technology Worldwide Sales at Cisco Systems, as he introduced the Cisco Connect Cloud apps.
'Wow' might be stretching it, but the product does deliver when it comes to taking control of your Wi-Fi network.
Cisco Connect Cloud software and apps - which the company says have been built with an investment of tens of millions of dollars - dramatically simplify how consumers connect, control and interact with their internet-enabled devices.
Key features of the new software are the ability to offer friends guest access to your home network, quality control such as prioritising your TV stream over your kids online gaming and NFC touch technology to transfer settings to a device without having to type in long complicated passwords.
Cisco has also announced the Linksys Developer Community, a program for developers to create apps for any consumer electronic device or to add new features to its Wi-Fi routers.
Cisco Connect Cloud Apps: Hardware
We tested the apps and Cisco Connect Cloud software using the Linksys EA4500 Smart Wi-Fi Router.
The EA4500 is an update of the Linksys Dual-band E4200 v2 router and has been designed to work with the Cisco Connect Cloud software and associated apps.
Given that it has the same internal components as the E4200 v2, the performance is on a par with that unit and it offers very good throughput.
There is quite a price jump between the two models though, so you will really want to use those apps to justify buying the newer model.
A USB port allows extra storage or non-Wi-Fi printers to be added to the network very easily.
Three internal 3D antennae also insure the performance is the same whether the EA4500 is left sitting on a desktop or mounted on the wall.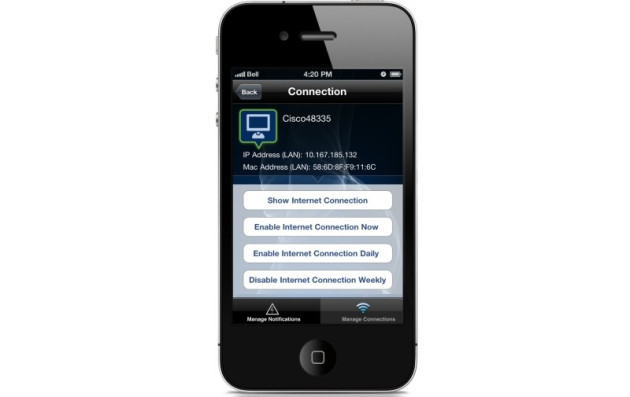 Cisco Connect Cloud Apps: Cisco's Software
A series of apps within the Cisco Connect Cloud software make interacting with your connected devices easier.
They can be accessed using your Cisco Connect Cloud account, so rather than logging into the router using a cryptic address such as 192.168.1.1, users log in to a website that gives them access to the router. This also means the system can be accessed anywhere you have a web connection.
Cisco's six included apps are Device Management, Guest Access, Media Prioritisation, Parental Controls, Speed Test and USB Storage.
Media Prioritisation allows you to choose items currently using your network and drag and drop them in a list to choose which ones get the best speed from your broadband.
Individual devices can be chosen to give them priority, or a specific application such as the BBC's iPlayer can be given 'Highest Priority' to make sure it runs smoothly. As a way of providing quality of service over a home network, it is incredibly user friendly.
Guest Access allows passwords to be sent to users by text message or email allowing you to securely offer a connection to your friends when they visit. This limits the number of people who know the usual password to your router and stops the complicated procedure of someone typing in a long binary code just to see what's happening on Facebook.
Cisco also demoed a yet-to-be-released 'Home Automation' feature that alerted a user when there was someone at the front door of the house.
Accessing a camera and seeing that it was a delivery man, the user could then remotely open an outer door so a package could be safely left in the small hallway between that door and the house's main front door. It's looks like a great way to get around those posted messages saying, "We called but you were out..." and shows what could be possible when developers get to grips with this new apps system.
Cisco Connect Cloud Apps: Developer Apps
Six mobile apps have been created by developers outside Cisco and most have already been added to the Apple App Store, with a couple also available on Google Play.
Block The Bad Stuff, Device Monitoring, Gemini IP Camera Viewer and HipPlay have been created for Apple devices, while Netproofer and Twonky Video are available for both platforms.
Block The Bad Stuff allows you to select well-known websites that you don't want to see traffic coming from, using three levels of filtering. Level one blocks known security threats such as malware, phishing sites and scam sites, while level two adds adult websites and level three includes non-family friendly sites such as those featuring gambling, drugs or violence.
Meanwhile, Device Monitoring watches all your connected devices and shows how they are being used, so for example you can tell how long your children have been online with their gaming consoles when they claim to be revising.
You can also see everyone who is online and knock people off your network remotely should you spot a user who shouldn't be there.
Gemini IP Camera Viewer helps install home cameras and also allows you to remotely use those webcams to monitor your family or possessions. Cisco said in its tests a large amount of people used this app to keep an eye on their pets.
HipPlay allows users to play, beam or share photos, music and videos on their phone, tablet, PC, Mac or TV.
Netproofer helps parents restrict access to specific websites for all users, or tweak the settings to block content on a specific device. It includes all major social networking sites and you can very easily add others to the list.
Twonky Video searches all attached devices for media content and lets users beam online videos to any Smart TV or AirPlay compatible devices.
In practice the apps we got to play with were extremely easy to use, often offering a single button to make changes - such as blocking traffic from Facebook, or sending a video to your TV. Having them appear under one umbrella rather than as separate PC or Mac applications platform will really help take the pain out of monitoring your network.
Our only complaint is that we would like to see more of them making their way on to Android and for all of them to be ported to BlackBerry.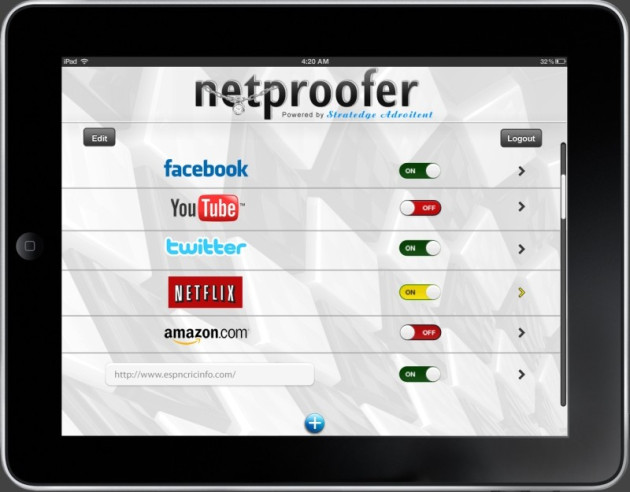 Cisco Connect Cloud Apps: SimpleTap and NFC
SimpleTap allows new hardware to be added to your network router very quickly using Android and iOS smartphone apps. Cisco has already partnered with a couple of manufacturers - Onkyo and Whirlpool - to integrate some of their products into the Cisco Cloud system using this quick system.
A demonstration of an internet-connected Whirlpool fridge also showed how a new water filter could be ordered direct from the Whirlpool website when it needed to be replaced. The app even warned users if the fridge had been left open - even if users cannot remotely close it just yet.
The fridge could be put into 'vacation mode' to maintain a constant temperature while you are away, when it does not need to account for being opened multiple times a day. This could be done with a single press of a button at the airport.
Meanwhile, audio specialist Onkyo has also included SimpleTap functionality in its wireless 7.1 AV Receiver, so the app does all the set-up work and there's no need to type in long passwords using the remote control.
Cisco also demonstrated the use of Near Field Communication (NFC) tags to quickly add a device to a network, although this technology is not available for consumers yet.
By placing an NFC card next to a phone that includes the same technology the settings embedded in a card could be transferred quickly and easily. The idea is that consumer electronic products such as a smart TVs will come bundled with NFC cards in the future.
"Watch this space," Ulrike Tegtmeier, Cisco's VP of International Home Networking, told IB Times UK when we asked if they would be partnering with TV companies to boost router sales.
Cisco Connect Cloud Apps: Verdict
Cisco admits that people like to configure their router once, stick it in a cupboard or behind the sofa and never touch it again. This new set of apps should mean that for the first time everyday home users can get more from their network.
Actively playing around with the settings will no longer be a chore and by using features such as traffic optimisation it should be possible to make a home network behave exactly how you always wanted it to.
Bringing together easy parental controls will also take some of the strain off those worrying about their children's access and the amount of time they spend online.
Monitoring individual devices and knowing exactly who is on your network at any given moment should also provide peace of mind to consumers who were previously baffled by complicated settings.
Cisco admits that the 'connected home' is an overused phrase in its industry but it seems to have finally delivered just that.