There is a purple "earthquake" machine opposite Clacton-on-Sea's train station. The device is designed to shake up the political class and is powered by Ukip. But the man assigned to control it is a former Conservative MP from London called Douglas Carswell.
The Eurosceptic politician triggered a by-election in August after he defected to Ukip and stepped down as an MP. Carswell didn't have to do this.
He could have changed colours and stayed on the House of Commons' green benches. Instead, he gave his "boss", the people of Clacton, a say. The move led Nigel Farage to dub Carswell "a hero". If Carswell is Ukip's hero, then Matthew Paris is the party's villain.
The Times columnist wrote an unkind article about Clacton. He claimed, among other things, that "most passengers have fled" by the time you get to the town and concluded that the Tories should leave Ukip to it.
A Parris Prize, awarded daily to the most "heroic" Ukip volunteers in Clacton, was quickly established. But whether the Conservatives listen to Parris or not, the polls are pointing towards a convincing Ukip win after 9 October.
A study from Lord Ashcroft, which questioned more than 1,000 people in Clacton between 29 August and 1 September, found that 56% of respondents would vote for Ukip.
In contrast, less than a quarter (24%) of people said they would vote for the Tories — giving Carswell a 32 point lead. With such a gap in mind, surely Ukip want a sizable majority after the by-election?
"The number we've got in mind is one vote enough to win the election," Michael Heaver, a Ukip campaigner and press officer tells IBTimes UK.
"All we are concentrating on here in Clacton is to try and get every single vote, make history and get Carswell in."
The way Ukip are going to get Carswell over the line is interesting. Although there are mentions of the party's stance on immigration and Euroscepticism, the 'I'm Backing Carswell' leaflets also focus on the former Tory MP's "record of action", including "pushing for more GPs" and calling for a "new sea front". No mention of promising to call European Union presidents "damp rags" or "low-grade bank clerks" here.
But wouldn't a lone Ukip MP be an outsider in Westminster, wouldn't his effectiveness and "record of action" be under-threat without the ear of one of the governing parties?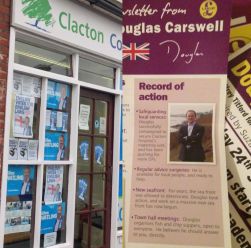 "I think the most effective MP you can have is one that truly believes in what he's doing," Heaver adds. "Carswell, by doing what he's done, by doing what he thinks is right, will be able to represent the people honestly — as he always has done."
Ukip's campaign is all about Carswell. He's on the buses, on papers and on banners throughout the seaside town.
That may seem like an obvious tactic, but the Newark by-election in June was won by the Tories after every minister and his dog descended on Nottinghamshire to back some bloke called Rob. Likewise, the 'Farage factor' was deployed to help another bloke called Roger.
This time the Tories have put up Giles Watling, an actor and director. His base is just down the road from the Ukip HQ but lacks to the buzz and fizz of the purple camp.
There is also a big contrast when it comes to policies. The Tories are leading on their big constitutional pledges in Clacton – "English votes for English laws" and "an in-out referendum on Europe". Ukip, meanwhile, is emphasising Carswell's local credentials – "I support our local NHS".
When IBTimes UK asked the people of Clacton what they thought were the most important issue, local concerns – business rates, unemployment and GPs – came up time and again.
In this sense, Ukip seem to be getting it right. But it wasn't all good for Carswell. Some slammed him for being a "turncoat" and others shared their mistrust of Ukip.
The Seaside 'Shanty Town'
A chocolate-box town, Clacton is not. But it is functional and, for the most part, it is sound.
The locals were ticked off at the disproportionate amount of charity shops on the town's high street, a gripe probably shared in most of the UK's towns beyond the major cities. However, its beach front and its Oxygène Part IV playing arcade means Clacton is well-suited for a family day trip.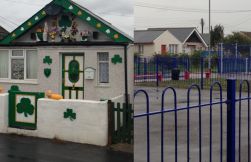 More than two miles from the fish and chip stalls and the Pirate Radio Museum of Clacton town centre, is Jaywick. The small village was designed in the 1930s to house visitors from London. But nowadays it is best known for the being the most deprived small ward in England and Wales, according to official figures.
The 'Shanty Town', as one cab driver described east Jaywick, is full of dilapidated properties. Mattresses and children's toys on the roadside, houses boarded up with odd pieces of wood and smashed-in windows are reoccurring themes.
These are the "left behind" voters, far from the bright lights of London, only Ukip understands, according to Matthew Goodwin and Robert Ford in Revolt on the Right.
But talk of usurping the "Westminster elite" in Jaywick Community Resource Centre didn't get much traction when IBTimes UK visited. The ladies there were more interested in bingo and hot drinks to settle their nerves as a nasty storm battered the coast outside. Politics wasn't on the agenda and the by-election was seen as a sideshow for outsiders.
Their thoughts beg the question: would a Ukip victory really create an "earthquake" for the "the establishment parties"? After all, the Westminster parties have all but abandoned Clacton town centre to Ukip.
A bespeckled Tory volunteer wasn't even sure if the Prime Minister would be coming down to support his man, despite Grant Shapps' promise that Cameron would. It seems Carswell becoming an MP is more of a shock for the media rather than his prospective "boss".