Claudio Bravo could be out for the rest of the campaign after suffering a calf injury during Manchester City's 0-0 draw against city rivals Manchester United on Thursday (27 April).
Pep Guardiola confirmed the injury after the game and revealed that he will be out for some weeks and with just five games left before the end of the campaign, it is unlikely that the Chilean will make an appearance again.
Bravo suffered the injury when he landed awkwardly after claiming a corner and needed to be stretched off with just over ten minutes to go. The Chile international has had a difficult first season in the Premier League and had only just reestablished himself as the first choice after losing his place to Willy Caballero since the beginning of February.
"Of course he has an injury, probably [out] for some weeks," Guardiola said after the 0-0 draw at the Etihad Stadium, as quoted by BBC Sport.
"I don't know if he will be available again this season," the Spanish coach added.
It was a game in which United were completely outplayed by their neighbours with Jose Mourinho clearly setting up for a draw. The Red Devils failed to register a single shot on target in the second-half with the only time Bravo being involved was during the corner in which he picked up the injury.
Former United defender Gary Neville, who is now a television pundit, criticised the Chilean 'keeper after he was stretchered off with a calf injury. The former Red Devils skipper was not impressed especially since the goalkeeper was not involved in the game up to that point.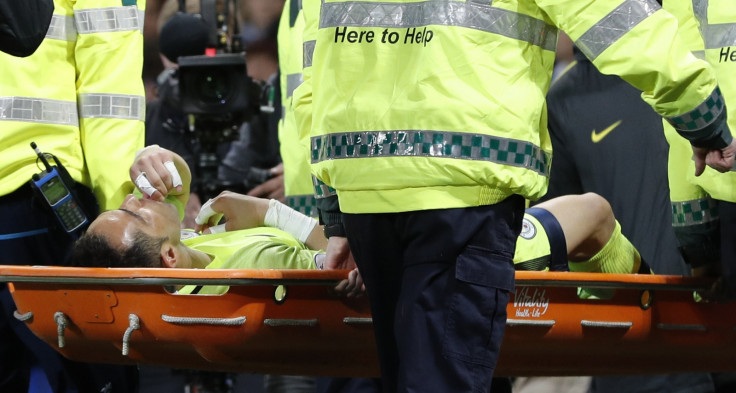 "A stretcher for a calf strain... please. Oh come on. He'd not done anything for 20, 25 minutes, he'd not been involved and then he's leaped with his left leg for that catch from the last corner," Neville said while commentating on the game for Sky Sports, as quoted by the Daily Mail.
"I'm not quite sure why there's a stretcher on. It's a calf strain. Am I missing something? You don't need a stretcher on for a calf strain. Please. He kicked the ball forward after that. Come on. I apologise if he hasn't got a calf strain," the former United defender added.