Nick Clegg Aims Swipe at David Cameron over Eastleigh By-Election
Liberal Democrat leader celebrates Mike Thornton's victory in Eastleigh with dig at coalition partner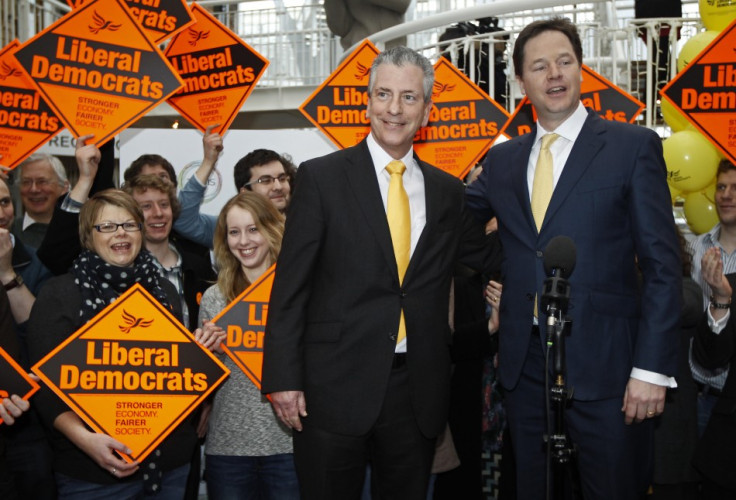 Gleeful Nick Clegg said that David Cameron must explain the "very poor result" to Tories as the deputy PM relished his party's victory in Eastleigh.
Hailing a "stunning victory" for the Liberal Democrats in the Hampshire constituency, Clegg invited coalition partner Cameron to account for finishing behind Ukip.
"Of course, I'll leave up to the leaders of the Labour and Conservative parties to explain, or to seek to explain, their very poor result," said Clegg.
Clegg was in Eastleigh after Lib Dem Mike Thornton held the seat for the party in the face of a sex pest scandal that has emerged.
But there was no escape from the Lord Rennard scandal for the deputy prime minister as he stood on the rostrum next to the winner.
He faced the question of when he "would come clean" over what he knew about allegations against Rennard, the former chief executive of the party,. Clegg refused to answer as he left the scene.
The by-election was triggered by the resignation of Chris Huhne for admitting to perverting the course of justice over a motoring offence.
A defiant Clegg said opponents had "thrown everything" at the party.
"This is a by-election we've had to fight in exceptionally difficult circumstances," he said. "Opponents have thrown everything at us. We held our nerve.
"We stood our ground, we worked as a team, we went out and campaigned on every doorstep. We overcame the odds and achieved a stunning victory."
Clegg claimed the result, in a safe seat for the Lib Dems, showed that his party remained a force in UK politics, despite polls showing near record lows in nationwide support.
He said: "We can be a party of government and still win.
"Two and half years ago we entered into coalition with the Conservatives. Our critics said we were going to lose our souls, lose our values, lose our identity, lose our ability to win. Last night we proved our critics are emphatically wrong."
© Copyright IBTimes 2023. All rights reserved.