As Colombia nears a peace deal with the rebels of the Revolutionary Armed Forces of Colombia (FARC), authorities are struggling to tame an increase in farming of coca, the raw material used to make cocaine. The most recent United Nations figures showed an increase of 44% in coca cultivation in 2014 in Colombia to 69,000 hectares. The United States government estimates there are 159,000 hectares of coca farming.
According to a Reuters report, locals barter coca paste for groceries in the Guyabero Region, where many people work on coca plantations. One gram of paste is worth about 2,000 Colombian pesos (about 45p or $0.64). It can be used to buy fruit and vegetables, as well as canned goods and cleaning products.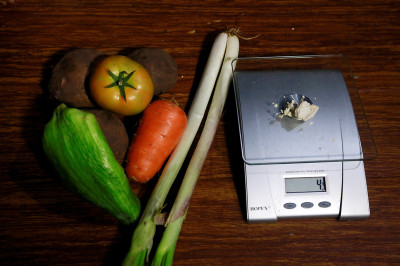 Nearly all the world's coca come from just three countries; Colombia, Peru and Bolivia. According to the United States, coca farmers in Colombia receive $1.30 (about 90p) for each kilo of fresh coca leaf. In Peru and Colombia, farmers earn twice as much as their Colombian counterparts for their coca plants.
The process for turning coca into cocaine is a simple three-step process. Harvested coca plants are rendered into coca paste after which the cocaine base is made using a variety of chemicals.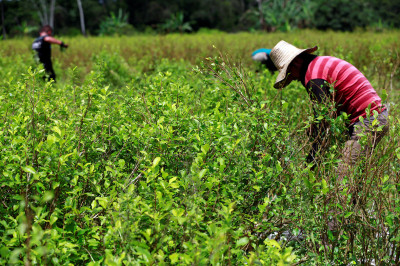 FARC rebels agreed in 2014 to break ties with drug traffickers, help eradicate illegal crops like coca and help fight the production of narcotics during peace talks in Havana. However, authorities have accused the rebels of stoking resistance to the eradication of illicit coca crops and continued involvement in drug trafficking.
Colombian Defence Minister Luis Carlos Villegas has deployed some 7,000 soldiers to 21 departments in the country to eradicate coca. However, he has admitted that the trend for increased coca production will likely increase until 2018. "I think that this year's reports are going to be very bad, I think that we will see more hectares (of coca plantations). Secondly, I think that if things go well next year we will manage to level out the curve. Thirdly, I think that if things go well, only in 2018 will we see a reduction in the number of hectares," said Villegas.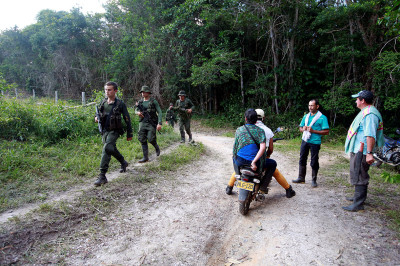 Efforts by authorities to move into regions like Guayabero to clear coca crops have been met with fierce resistance from local farmers. In one incident, two police officers and ten farmers were injured in clashes. Without their coca crops, many farmers fear they will be left without any livelihood. One farmer told Reuters: "The only thing we do not want and are constantly resisting is that they finish with our plantations and leave us with nothing, we do not want this, that they come and pull out our plants, then go and leave us here, because believe me, if they pull out these plants, coca will come back and the virgin forest will be removed to make way for coca which will be planted in better quality, and no one knows how but that is the life of the farmer here."
Critics argue that efforts to stamp out coca to stifle drug traffickers like the FARC often affect poor, small farmers rather than deep-pocketed drug traffickers. More than 80% of Colombia's coca is grown in just six of its 32 provinces, rural areas blighted by widespread poverty and a lack of alternative employment opportunity.
Ferin Oviedo, a representative of the Acatragua, Guayabero Regional Farmers' Association, told Reuters that coca had helped provide services for the local community which the government had failed to provide. "Coca has stepped in for the role of the state for farmers in the region because it is what has guaranteed for the large part of the community the opportunity to feed their children in a dignified way, health, education for their children, a way of sustaining their families in every sense. As these regions are isolated, they are completely abandoned by the state, there is no infrastructure, there are no roads, no hospitals, no universities, education is precarious," he explained.
Even though many farmers are aware of the negative effects of their crops, they say they have no choice financially but to keep on planting coca. According to the United Nations Office on Drugs and Crime, Colombian coca farmers earn on average $1,000 a year. Many farmers who have agreed to participate in previous government crop substitution programmes have been left worse off.
"We as Colombians from Guavire know that we are doing harm to Colombia and to the world but the problem is that the government does not want to resolve the huge problem we have here. We appear to be rich, millionaires on a national and international level, but we have nothing to live off, look at the roads we have here and the government does not want to resolve this problem. That is why we are here as farmers and farming directors because we are not going to move from here, we are ready to give our lives if they touch us before they see our families going hungry in the city," Orlando Castilla, President of the Farmers Association in the Guaviare Region, told Reuters.