Flanked by his brother on one side and his university tutor on the other, Piotr Zurkowski pumped his fist into the air to the rhythm of We are the Champions. As the song came to a close, the 22-year-old picked up a silver cup the size of his head and held it up for the thousands cheering before him to see; inscribed on its base were the words: Coding World Champions.
"It's unbelievable, it's really something special," Zurkowski told IBTimes UK after the event in Helsinki last week, shifting excitedly on his feet as press from around the world clamoured to talk to him.
"The feeling is fantastic, one of a kind, priceless. I wouldn't trade it for any money."
In the first event of its kind, thousands of professional computer programmers and hobbyist coders from around the world had competed to create the code for a self-driving car. Following months of qualifying rounds involving over 4,000 coders across 90 countries, Zurkowski's Polish team beat finalists from Brazil, Slovakia, Finland and Russia to be crowned the first ever world champions of coding.
Superstar coders
In the weeks and months leading up to the finals, Zurkowski had worked tirelessly for 10 hours a day alongside his brother Tomasz and his tutor Wojciech Jaskowski, committing his time and effort in a manner not dissimilar to that of a professional athlete preparing for an event. Such dedication is something that Ville Valtonen, organiser of the Hello World Open tournament, believes deserves the same recognition as their athletic counterparts.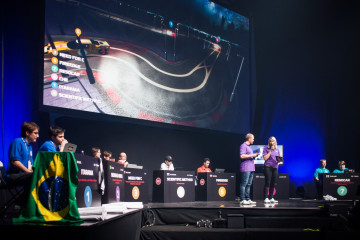 "We think that coders are real superstars," Valtonen tells IBTimes UK. "But they're not perceived in the same way as sports stars. We hope to lift them to a similar level of celebrity."
In order to make it more accesible to a mainstream audience, the tournament was designed to not require any knowledge of coding or even computers to enjoy - racing virtual cars coded by the teams around world-famous circuits like Silverstone and Monaco.
"The task was to code an AI [artificial intelligence] for a race car," Valtonen says. "What the cool thing about that is everyone can see who's winning, even if they don't know anything about coding.
"We want to make this more like a sport, like tennis or Formula One. Something that even my mum can understand."
Conquering the world
The popularising of what might have once been considered the exclusive domain of computer whizz-kids and geeks signals a shift towards a broader recognition of the importance of coding and its ubiquity in modern-day life.
Zurkowski's own fascination with coding first came to him at his childhood home in the small town of Kostrzyn, Poland.
"Computers were in my life all the time since I was a very little child," Zurkowski says. "My father is a graphic designer and computers were present in our home as soon as they appeared on the market."
Having developed an early interest in mathematics and algorithms, Zurkowski turned his attention to coding - eventually enrolling in a computer science course at the local Poznan University of Technology.
"I started noticing more advantages of coding," Zurkowski says. "Being a coder means having endless possibilities. All you need is a computer and an idea and you can create virtually anything. That's plain awesome."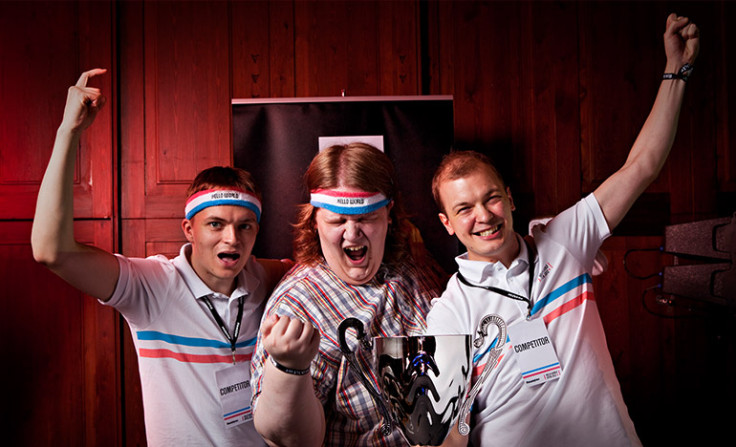 In the week that has passed since Zurkowski and his team were crowned coding world champions, he has had time to reflect on his triumph and the significance of such an event on the world of coding.
"A competition like this wouldn't have been possible 10 years ago," Zurkowski says. "Coding has become one of the most important professions - if not the most important - in the last few years.
"It appears in all fields of research. Computing power helps with almost anything, and to use it well we need good coders."
Coding in the classroom
From a fringe interest to an internationally contested discipline, coding's move into mainstream consciousness is soon to break another significant boundary.
From September, computer programming will be introduced to the national curriculum for primary schools in England, while schools in Estonia and Finland have similar programmes in various stages of development. This reflects the recognition coding has received beyond tech circles and what some see as its integral role in developing society in the 21st century.
"If every child can understand that they can build the world around them through programming, that will have a huge affect on how society develops in the next decade or two, as more and more software is being used to shape the world." Juhani Mykkanen, co-founder of Finnish teacher educational scheme Code2016, tells IBTimes UK.
As for Zurkowski, his attention now turns to finding a place to work, with hopes that there's a company out there to accomodate a world champion coder.
"The most important aspect for me is to do something that's interesting and has some impact on the world," he says. "Almost any company has a team to fit those requirements, so I hope that I will manage to find my place in the world."