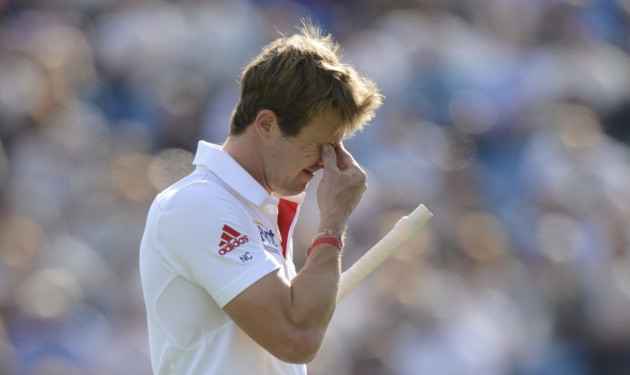 Nick Compton hopes his latest flourish against Australia won't be ignored after scoring 79 for Worcestershire to give a timely reminder to the England selectors.
The 30 year old was dropped from the England team ahead of the Ashes warm-up game against Essex, with Joe Root preferred to open alongside captain Alastair Cook.
After scoring successive centuries in New Zealand, Compton struggled in the two-test home series with scores of 16, 15, 1 and 7, pilling pressure on his place ahead of the Ashes.
England test coach Andy Flower said after the series that Compton's place would be dictated by the runs he subsequently scored for Somerset in the County Championship.
Despite struggling in the one-day game, 166 against Durham has since sparked an impressive run of form against Australia where knocks of 81 and 34 for his county were followed by another half-century in the tour match at New Road.
But Root, who scored his maiden test hundred against the Kiwis at Headingley, is expected to be given the nod alongside Cook and after seemingly fulfilling the demands imposed on him, leaving Compton frustrated at being overlooked.
"I'm proud of the way I've performed in the last couple of games after what was very disappointing news, which to be honest came as a bit of a shock," he said.
"I don't feel that I had a fair crack of the whip. I feel like I did enough in New Zealand with back-to-back hundreds. I had an okay Test at Lord's in the context of the game and what Cooky and I did.
"Then Headingley was a poor Test match and that was it. By my own admission I wasn't in a great place. It was a poor Test, no doubt about it, but one and a half Test matches doesn't really constitute a series or a career.
"I don't really know where things stand to be honest," he added. "I got told I had been dropped. Your guess is as good as mine. Would you drop me for an Essex warm-up game and then pick me? Isn't that messing a few people around, I don't know?
"They have not said anything about being on standby. After Headingley Andy Flower said go away and score runs. I have done that. How many runs is scoring runs? They said I have missed out on the Essex game and go away and prove us wrong."
National selector Geoff Miller last month gave an emphatic endorsement of Root's credentials to open for England for the Ashes, with the 22 year old scoring 41 and 26 at Chelmsford to cement his place in the team ahead of the first test at Trent Bridge.
Both Compton and Root were called into the England squad for the tour to India in the winter after scoring 1494 and 964 runs in the domestic season respectively, but the Somerset man was given the nod to replace ex-skipper Andrew Strauss at the top of the order.
Root was handed his debut in the fourth test in Ahmedabad and has since impressed sufficiently in both the test and one-day arena to be moved up the order.
Despite Root's burgeoning reputation, Compton has yet to give up on appearing in the Ashes this summer.
"I'm certainly not going to lose hope of playing in an Ashes series," he added.
"It's a dream of mine and something I've worked very hard to achieve. It's been disappointing of late but I'll keep fighting on because I regard myself as a fighter.
"I've had to do that time and time again. I feel ready but it's not my job to select."