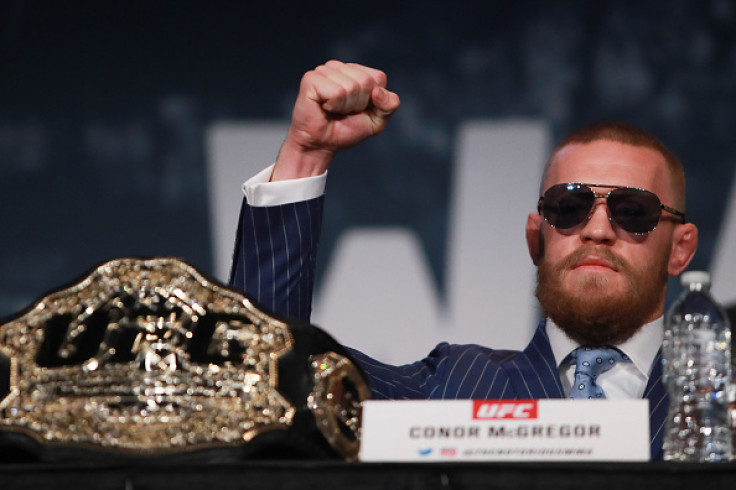 Ultimate Fighting Championship (UFC) superstar Conor McGregor has indicated that money is no longer his main motivation as he prepares for his fight with Eddie Alvarez in UFC 205 on Saturday (12 November). The Irishman is looking to make history and become the first fighter in UFC to hold two-weight titles simultaneously.
The reigning featherweight champion had famously said in 2014 that his main intention of getting into the sport was to get rich and also revealed earlier in the year that he could earn around $40m (£32m) by the close of 2016. McGregor has now changed his stance and indicated that winning gold in the form of titles is what motivates him to keep on going, while stating that he could have called time on his career two fights ago as he is financially secure.
"I'm set for life – I could walk away from this game two fights ago, I could have," McGregor said during an interview with Rolling Stone magazine.
"I'm motivated by the gold, the extra gold. The history of it. It's historic. Of course the money always motivates. The love for competition. There's many factors that go into it. I said I would enter and I would dominate two divisions, win the two-weight world title. If I say it, I will do it. That's where we're at," he added.
McGregor's long time coach John Kavanagh has echoed his fighter's thoughts and made it clear that financial stability was not his client's ultimate goal when he entered his gym over a decade ago. 'The Notorious' as McGregor is popularly known could have explored other avenues if money was his main motive, his coach has suggested, while revealing that he is still highly motivated to be the best fighter he can be.
"His underlying motivation from Day 1 was never money, and was never fame," Kavanagh said during ann an interview to promote his book, Win or Learn, as quoted by rollingstone.com
"His underlying motivation was to be the best fighter he could possibly be. He's not driving himself to the limits right now and training himself half to death, he's not doing that to add more money to his bank account.
"His grandkids will still not be able to spend what he's earned and he could certainly make easier money doing some movie roles and some TV ads," McGregor's long time coach continued.
"The motivation in my mind has never changed. His motivation was always to be the best fighter he could possibly be and he truly enjoys testing himself against other top-level competitors. That's how it was over 10 years ago when he walked into my gym, and this is how it was in the lead-up to this."