Boris Johnson has seen a huge slump in popularity in the past two months, according to a new YouGov survey.
The Foreign Secretary took a 23 point hit among Conservative voters between September and November, with his net favourability falling from 35 to 12. He has also seemingly lost support among the general public, according to YouGov's latest favourability tracker survey, as his net favourability fell from -17 to -29.
Johnson is currently seen in a favourable way by 28% of the general public, and 52% of 2017 Conservative voters. In comparison, 32% of the public and 72% of Conservative voters have a favourable view of Theresa May. Corbyn and Labour maintain their net favourability leads over May and the Conservatives.
Johnson has been mired in controversies over the past two months. Most recently, he was accused of endangering the life of a British mother who was jailed in Iran after claims she tried to overthrow the regime while on holiday visiting family.
Johnson claimed Nazanin Zaghari-Ratcliffe was "simply teaching people journalism" in Iran but it was feared this inaccurate comment would add five years to her prison sentence. He has since told the Commons that he was sorry if his comments had been "so taken out of context" as "to cause any kind of anxiety". Zaghari-Ratcliffe's husband, Richard Ratcliffe, has also since spoken to Johnson on the phone and said he should not resign because he has a "crucial role" in fighting for his wife.
The Prime Minister previously faced calls to sack Johnson in early October after comments he made about Libya. Speaking at a fringe event at the Conservative conference, he said war-ravaged Libyan city of Sirte could be the new Dubai if they "clear the dead bodies away".
He was criticised by politicians in both Libya and the UK but appeared to defend his words, tweeting: "Shame people with no knowledge or understanding of Libya want to play politics with the appallingly dangerous reality in Sirte.
"The reality there is that the clearing of corpses of Daesh fighters has been made much more difficult by IEDs and booby traps.
"That's why Britain is playing a key role in reconstruction and why I have visited Libya twice this year in support."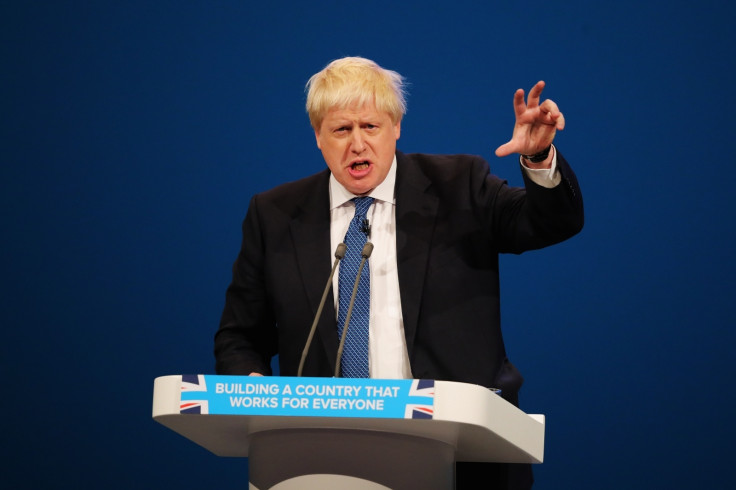 Ministers also reportedly urged May to sack Johnson at the start of the Conservative conference, when his vocal demands about Brexit were criticised. One minister told the Times: "She (May) needs to sack Boris or stand down. His every utterance is calculated to damage her. It cannot go on."
And in September, Johnson repeated the controversial claim that the UK will save £350m a week once it leaves the EU and that much of this money could be used on the NHS. The figure was found to be "potentially misleading" by the UK statistics watchdog after the EU referendum, when it was used heavily in the Leave campaign.