Ministers have urged Theresa May to sack Boris Johnson as foreign secretary over his vocal demands about Brexit.
The first day of the Conservative Party conference on Sunday (1 October) was dominated by talk of Johnson's so-called 'red lines' over Brexit, in which he said should not take a "second longer" than two years.
But one minister told the Times: "She (May) needs to sack Boris or stand down. His every utterance is calculated to damage her. It cannot go on."
Another minister said that Johnson was a "constant international humiliation" who had "zero" parliamentary support.
Another Johnson ally said if he were sacked that: "Boris on the back benches would make things more fraught but having him do this in government is just terrible."
The apparent division at the top of the party threatens to overshadow the party conference in which May had planned to announce a freeze on tuition fees, and expanding subsidies for first-time home buyers.
However an ally of the prime minister told the Telegraph that she in fact shares her foreign secretary's views on Brexit.
"It's all eminently do-able, this is just straw-man posturing from Boris to raise his profile. There's no conflict here, that's why she won't be sacking him."
Johnson himself made a further land grab, telling the Sun he wanted the UK's aid ministry, the Department for International Development (Dfid) and its £13bn budget to become part of his Foreign Office empire.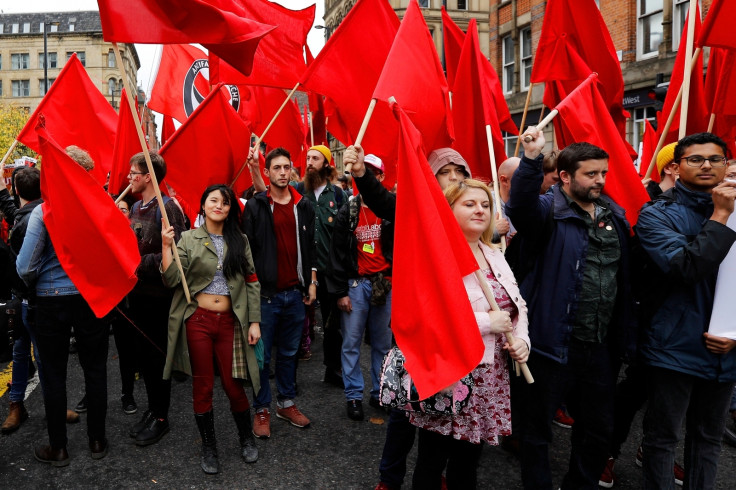 "If we are going to be in this great global campaigner for free trade, then we have got to maximise the value of overseas engagements," Johnson told the tabloid.
Ruth Davidson, leader of the Scottish Conservatives and a favoured candidate to take up the leadership, appeared to rule herself out of the running when she addressed the party faithful on Sunday, saying: "Now let me make this clear: conference, I love London. No plans to move there myself, but great to visit."
Tens of thousands of protesters marched through the streets of Manchester, where the Tory conference is being held. Two separate demonstrations saw the masses take to the streets to oppose the Tories over Brexit and austerity.
Meanwhile on Monday (2 October) the chancellor Philip Hammond has confirmed there would be a big boost to the Northern Powerhouse scheme to develop the north of England. This would include £300m for better rail services in the region and a £100m investment for new road schemes in the North East, North West and Yorkshire and Humber.