Costa Concordia: 20 Powerful Photos of the Cruise Ship Disaster and Recovery Operation
The shipwrecked Costa Concordia has been successfully refloated in preparation to be towed away for scrapping, 30 months after it struck a reef and capsized, killing 32 people.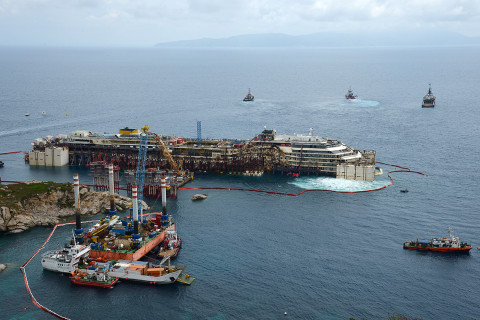 The operation to float the Costa Concordia from an underwater platform proceeded without a hitch. It will be shifted about 30 metres and anchored.
The entire operation to remove the enormous vessel from the reef and float it to Genova, where it will be scrapped, will cost a total of €1.5bn (£1.2 bn). Towing is set to begin on 21 July and expected to take five days.
The 290m luxury liner, twice the size of The Titanic, had more than 4,000 people on board when it ran aground in January 2012, killing at least 32 people.
In this gallery, IBTimesUK tells the story of the disaster and recovery effort through 20 powerful photos.