After Two and a Half Years, Sunken Cruise Ship Costa Concordia to be Refloated Over a Week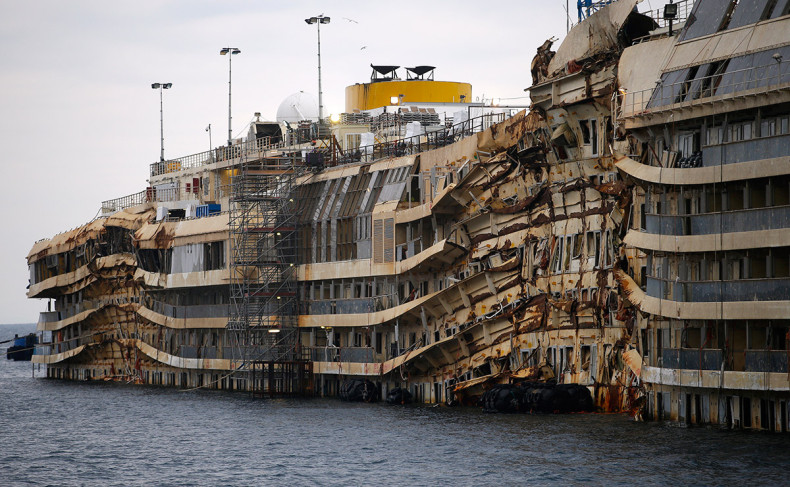 Two-and-a-half years after it crashed off Italian island Giglio — killing 32 passengers —cruise ship Costa Concordia will be finally refloated and towed away on its final journey to the scrap yard.
In what is being termed a feat of engineering, the operations will begin with the 114,500-tonne vessel being raised two metres (6.5 feet) off the artificial platform it has rested on since it was righted in a dramatic operation in September.
The liner will be refloated over a week and then towed away to Genoa port in northern Italy for scrapping where it is expected to arrive later this month.
The Concordia will have to be refloated by 12 metres. Thirty giant steel tanks have been fitted on the two sides of the ship and filled with water to keep it pressed on the man-made platform it was rolled upon. Air will be pumped in to remove the water off the tanks, creating air pockets that will give the ship the buoyancy it needs to stay afloat.
When the liner will be raised by the first two meters, the hull could crack open and spill out the rotten food, chemicals and debris that has remained trapped in the ship for more than two-and-a-half years.
"The risks are that the ship could bend as it is raised, or the chains underneath it could snap," Nick Sloane, a South African salvage master who is in charge on the technical side of the operation, said. "There will be 42 people on board during the first manoeuvre. If disaster strikes we will evacuate through emergency escapes on the bow and stern," said Sloane, who will oversee from a control room on the Concordia itself. The whole operation is expected to take around six hours.
If the first re-floating is successful, the ship will be moved further eastwards by tugboats. Then, for the next three to four days, it will be refloated, stopping when each deck emerges to check that no toxic substances leak into the sea. The area covers one of Europe's largest marine sanctuaries -- a haven for dolphins and whales -- and environmentalists have warned about the dangers of toxic waste or fuel leaking into the sea as the ship is raised and towed.
The ship's captain Francesco Schettino is on trial for manslaughter for the shipwreck and abandoning the vessel before all passengers had evacuated. The ship is owned by Costa Crociere, Europe's biggest cruise operator.
On the night of the disaster, survivors were fed and clothed by locals. The body of Indian waiter Russel Rebello is still missing and there will be a search for his remains during the refloating.