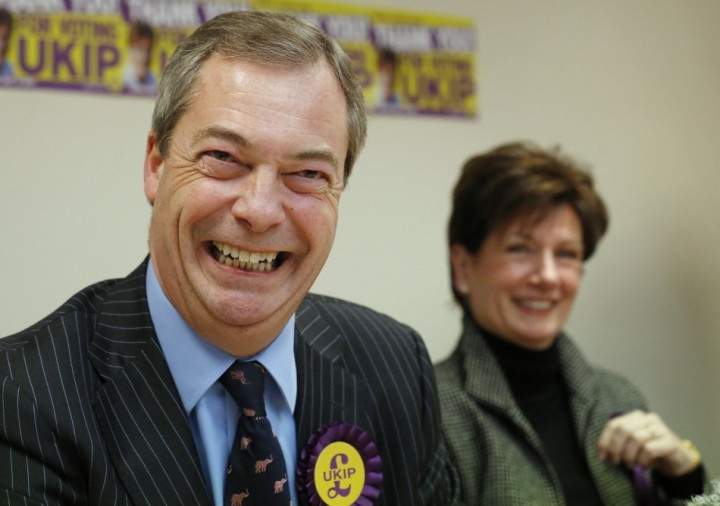 Ukip has posted impressive early results in Britain's local council elections, winning 42 of the seats declared so far.
The Eurosceptic party is now the official opposition in Lincolnshire, where it has won 16 seats, and its average vote share currently stands at around 26%.
Ukip's early performance constitutes the biggest gain by a fourth party in England since the end of World War Two, and its spokesperson claimed it is on course to win well over 100 seats.
The rise of Nigel Farage's party appears to severely damaged the Tories, which has lost two of the seven councils declared thus far - its grip of Lincolnshire irrevocably dislodged by Ukip.
However, David Cameron's party has retained control of Essex, Dorset, Somerset, Hampshire and Hertfordshire.
Britain's other governing party also appears to have struggled, with the Lib Dems having already lost seats - including in Somerset, which was one of Nick Clegg's key targets.
A Labour spokesperson told reporters the party has performed reasonably well, although the full picture has yet to emerge.
'Send in the clowns'
Professor John Curtice, an expert in politics and public voting, told the BBC that Ukip, which also came second in the South Shields by-selection, has produced a "remarkable performance" in the council polls.
Earlier Farage had reacted to Ukip's results by roaring "send in the clowns" - a clear reference to Ken Clarke's disparaging remarks about his party earlier this week.
Farage told Sky News: "We've been abused by everybody, attacked by the entire establishment who did their best to stop ordinary decent people going out and voting Ukip and they have done in big, big numbers.
"By the end of today we are going to have a fair tally - and it sends a shockwave, I think, through the establishment.
"If you speak to the Westminster elite, they will tell you 'it is just a protest, nothing to worry about really.'
"[But] when I meet Ukip voters they say, 'Nigel, we're voting for you because we believe in what you stand for'. These votes are not easily going to go back to the Labour and Conservative parties."