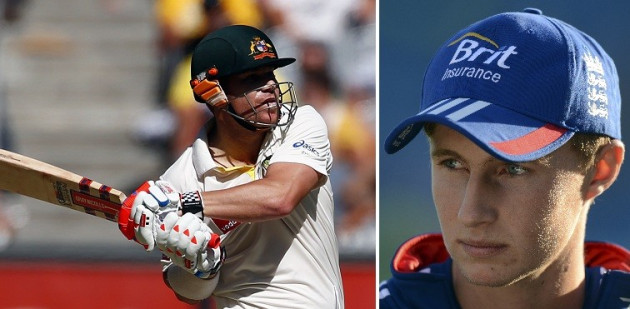 Australia's opening batsman David Warner has been dropped on the eve of the Ashes for allegedly attacking an England player.
Warner reportedly launched an unprovoked attack on Joe Root in an Aussie-themed bar in Birmingham.
It happened during a night out at the Walkabout bar in the early hours of Sunday morning.
Australian cricket bosses said Warner had been dumped out of the team for the Champions Trophy match against New Zealand at Edgbaston because of his "unbecoming behaviour".
A spokesman said: "He was allegedly involved in a physical altercation with an England player following the ICC Champions Trophy match between the teams in Birmingham.
"Team management have stood down Warner pending the outcome of a hearing, meaning he will miss Australia's match against New Zealand in Birmingham."
Unbecoming behaviour is covered by rule 6 which governs Australia's players. A spokesman said: "Cricket Australia will convene the code of behaviour as soon as possible. Details will be provided once the time and date are confirmed. CA will not be making any further comment until after the hearing."
The England and Wales Cricket Board said it was an "unprovoked" attack by Warner on an England international. The Australian had apologised to the player, said the ECB.
A spokesman said: "David Warner initiated an unprovoked physical attack on a member of the England team in a Birmingham bar following England's 48-run victory over Australia. Warner has admitted behaving inappropriately and has apologised to the player involved who has accepted the apology.
"Following a full investigation the England team management has concluded that the England player was in no way responsible for, nor retaliated to, the attack. ECB has concluded that this is a matter for Cricket Australia and has no further comment."
This late-night bar brawl is the latest incident involving Warner. In May the 26-year-old received the biggest possible fine under the behavioural code, after a Twitter row with two journalists.
Robert Craddock and Malcolm Conn were branded "pricks" by Warner on Twitter, who accused them of "talking s**t."
It followed a poor spell with the bat for Warner, who failed to score a run during a match against India.
Warner's anger was sparked by a story in an Australian publication which used a picture of him to accompany an article about alleged corruption in the Indian Premier League.