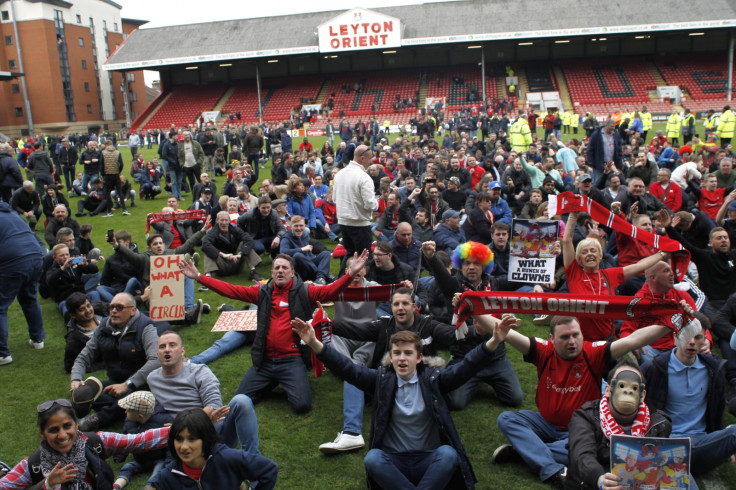 In May 2014, Leyton Orient stood on the cusp of promotion to the second tier of English football for the first time since 1982. Having outlasted Peterborough United in a nervy semi-final affair, The Os, third-place finishers under Russell Slade, initially boasted a 2-0 first-half lead over Rotherham United in the League One play-off final and held the advantage in a subsequent penalty shootout only for their Championship dreams to be shattered by a fine double save from Millers goalkeeper Adam Collin.
Fast forward three years from that dramatic afternoon at Wembley – perhaps now best remembered for Steve Evans' trouser-troubling touchline dash that followed an Alex Revell equaliser – and London's second-oldest football club find themselves in a state of alarming and seemingly inexorable decline.
Under the controversial ownership of Italian businessman Francesco Becchetti, who bought a 90% shareholding from lifelong fan Barry Hearn's Matchroom Sport Ltd for £4m ($5.1m) less than two months after that gut-wrenching loss, rock-bottom Orient have gone through no fewer than 10 managers. A pair of relegations means that their 112-year unbroken run in the Football League will officially come to an end this weekend.
Those torrid on-field struggles have been mirrored by a worsening financial plight and in March Orient were served with an immediate winding-up petition by HM Revenue and Customs. A stay of execution was granted after the payment of an outstanding tax bill and the case was adjourned until June.
The sense of overwhelming crisis enveloping the East Londoners was exacerbated last month when staff members claimed that they had not received payment and released a statement expressing huge concern at the lack of communication issued by Becchetti and Orient's directors. Hearn subsequently resigned as honorary life president citing a desire not to have his name linked to the club under the current ownership and last weekend Orient finally confirmed that all salaries had been paid in full.
Orient fans' fury at what has transpired over recent years reached fever pitch last Saturday (29 April), when hundreds of fans invaded the pitch and staged a protest in the latter stages of their last home fixture of a truly miserable campaign against Colchester United.
Their sheer defiance in the face of repeated requests to disperse eventually led proceedings to be abandoned, only for the game, which the hosts predictably lost 3-1, to later be concluded in somewhat bizarre fashion behind closed doors. The embattled EFL defended the rationale behind that unusual decision on Friday.
A final outing of 2016-17 at Blackpool has also been shrouded in controversy, with the EFL initially granting the home club's request to suspend ticket sales to away supporters in order to "allow sufficient time for a full review of the match day safety and security arrangements" at Bloomfield Road. The eventual compromise of a revised allocation of 1,000 tickets – down from 1,700 – to be sold to season-ticket holders or members of the Leyton Orient Fans' Trust (Loft) only has done little to ease the sense of exasperation with their treatment.
Loft insist that there are no protests planned for during the game or inside the ground, warning that another pitch invasion could potentially lead to action by the football authorities and/or Blackpool. However, fans of both clubs are invited to come together in a joint-protest march dubbed "Judgement Day 3" to voice further disillusionment with Tangerines owner Karl Oyston and Becchetti. A similar protest took place before the first fixture between the two clubs at Brisbane Road in November.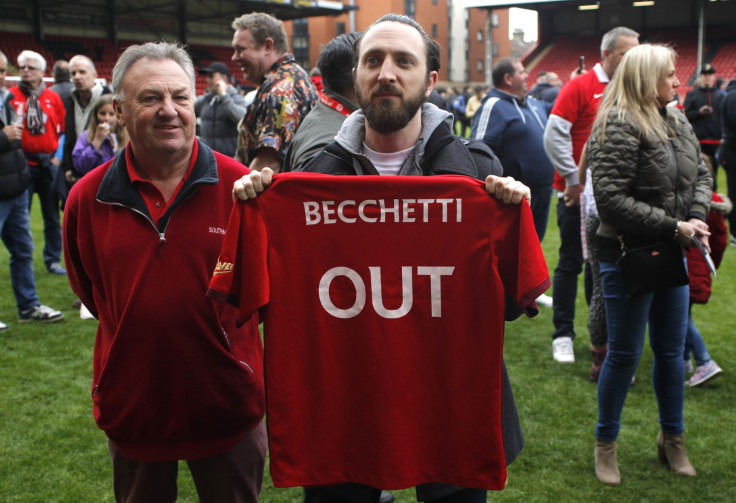 What have the footballing authorities said?
The EFL, in response to calls from worried Os staff to intervene amid that nervy wait for payment, said they remained "exceptionally concerned about the current situation at Leyton Orient" in a statement issued in late April. They said the league was "seeking answers to a number of important questions from the directors of the club" and insisted that "silence is not an acceptable response".
The EFL say they last met with Angelieri on 9 March, when confirmation was received that funds would be made available to dismiss the winding-up order and fund the club in future. Responding to talk regarding their owners' and directors' test, the league stressed that "it is important that supporters understand that the test governs the eligibility of who is able to own a club – it does not also ensure that those individuals have the capability to manage it properly".
They added: "The role of the EFL is one of a competition organiser and the management of clubs is a matter for their directors, as long as their conduct is not in breach of any of our regulations. There are any number of actions the EFL might wish to take, but it can only ever act in accordance with those regulations. While Leyton Orient may have been relegated to the National League, the EFL will continue to do everything it can to ensure that the future of the club is secured."
The National League, meanwhile, declined to comment on Orient's situation due to the club not officially becoming a member until the annual AGM to be held on 10 June – two days before Orient's payment deadline.
What does the future hold for Leyton Orient?
The threat of potential liquidation is certainly not over and the current ownership have been handed a deadline of 12 June by which to pay off all remaining creditors or sell up. It was said in court that Becchetti planned to invest £1m into the club over the following eight to 10 weeks in order to clear the debt.
Orient have yet to respond to IBTimes UK's request for comment from either Becchetti, who has not attended a home game since late 2016, chief executive Alessandro Angelieri or chief operating officer Vito Miceli.
However, a rare statement released by Angelieri via the official club website in January stated that "appropriate offers for the club will be considered" after an initial bid was deemed unacceptable for reasons that were not publicly disclosed.
With the future shrouded in such uncertainty, two months ago Loft, who remain eager to see the club sold, launched a Leyton Orient Regeneration Fund to help in the event that they were to enter into an agreement to buy the club or purchase it from an administrator and settle any creditors. The money could also be used to assure the viability of a phoenix club akin to the likes of AFC Wimbledon should those worst fears be realised.
They are eager to point out that the fund, which had reached £140,000 as of 30 April including contributions from fans of other English teams, is not to be used to assist major shareholder Leyton Orient Holdings Ltd in settling the current debt.