Andy Murray has praised the temperament of fellow Olympic gold medallist Anthony Joshua, although admits that he found the affable boxer's dramatic victory against Wladimir Klitschko very tough to watch.
Undefeated "AJ" rose from the canvas on Saturday night (29 April) and demonstrated excellent powers of recovery in front of 90,000 adoring fans at Wembley Stadium to overwhelm his vastly experienced opponent and seal a thrilling 11th-round stoppage. A 19th consecutive knockout triumph, far and away the most significant of his short but explosive professional career to date, saw the Watford-born pugilist unify the IBF, WBA 'super' and IBO heavyweight titles.
Asked for this thoughts on a truly exhilarating sporting event to rival any held in Britain over recent decades during a press call at Queen's Club, noted boxing fan Murray was quoted as saying by The Telegraph: "I shake when I watch boxing. My wife was like 'Are you OK?' I had to leave the screen.
"I was unpacking my bag for 30 seconds, then I would come back and watch a little bit. I find it really difficult to watch, especially when I know someone that is in the fight."
Praising Joshua's continued humility and unwavering focus that appears at odds with his growing celebrity, he added: "I met him for the first time at the Olympics in 2012. He doesn't appear to have changed at all, which is refreshing, because there's a huge drama around every fight. When you listen to him, he does appear to be very grounded and very aware of where he wants to get to and the best way of doing that.
"Like, he went out to train with Klitschko just to understand how to run a professional training camp. If you're willing to take on board the advice of people at the top of their sports, you're going to understand quickly that the one common thing is that you have to work hard – all of the time."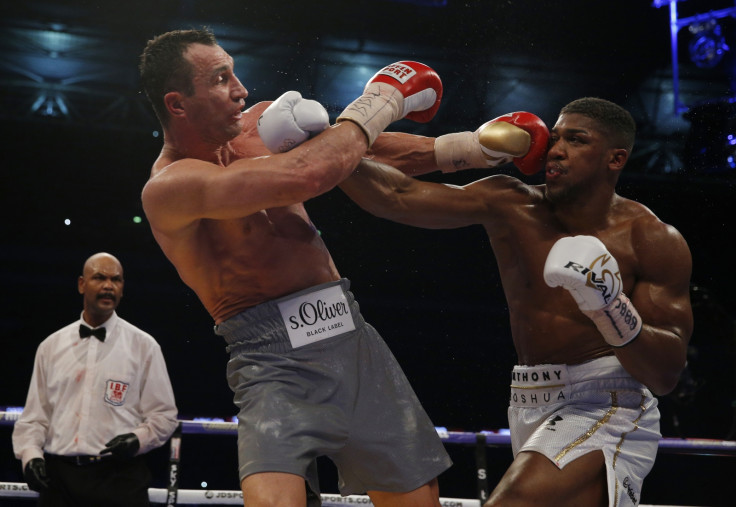 Such was the perceived importance of Joshua's stirring win over Klitschko that many onlookers were quick to thrust him into the upper echelons of British sporting royalty. However, the 27-year-old believes he has a long way still to go before he can be compared with a three-time Grand Slam winner, world number one and reigning BBC Sports Personality of the Year.
"Andy Murray? Compare me to what he's done? Nah, he's been doing it for a lot longer and at a higher level. I've only just arrived," Joshua said earlier this week. "He's been doing it for a long time so big respect to him. That's what I say, he's done it for a long time so he definitely deserves the credit he receives because of how long he's been in the sport.
"I've met Andy a few times and he's a big boxing fan. I think he will have enjoyed watching my fight wherever he was in the world."