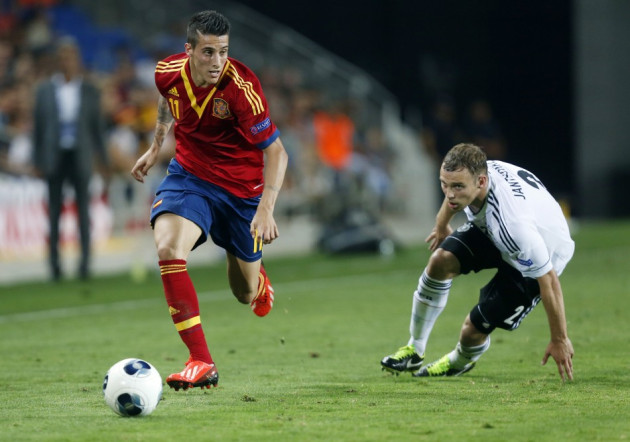 Barcelona will attempt to address Cristian Tello's buyout clause as they battle to avoid losing another starlet in Thiago Alcantara to Manchester United.
Tello, who provided an eye catching set of performances in Spain's Under-21 European Championship success this month, renewed his contract at the Nou Camp last December but his buyout clause remains a modest €10m.
While his performances in Israel will have impressed Barcelona, the club are faced with the possibility of losing perhaps their most promising midfield talent in Thiago Alcantara.
United are reportedly on the verge of capitalising on a contractual clause that allows the 22-year-old to leave the Nou Camp for €18m, a relative bargain considering the midfielder's immense potential.
In a bid to avoid losing another of their bright talents, Marca report that the Catalan giants will now enter to talks with Tello and his agent to increase his salary in order to raise his buyout clause.
The 21-year-old, who made 35 appearances for Tito Vilanova's side last season, was linked with moves to both Arsenal and Liverpool last summer before he committed his future to Barca. Although Tello remains committed to the Barcelona cause for the time being, his low buyout clause is unlikely deter any suitors from making a bid.
In efforts to resolve this, Barcelona's sporting director Andoni Zubizarreta has met Tello's representative Jose Maria Orobitg in efforts to address the issue as quickly as possible.
Not dissimilar to Thiago's contract, Tello's is another where its release clause is determined by appearances for the first team. Having made 37 appearances for the club, Tello's release clause will rise to €14m once he makes 50 appearances for the club, then to €18m after 70.
But with major clubs across Europe reportedly considering meeting his current buy out fee, Barcelona are not in the mood to wait, and will attempt to renegotiate a deal as quickly as possible.
A number of reports have suggested United have already made an offer that has activated the Brazilian-born Thiago's release clause, and are now waiting for him to decide whether to remain in Cataluña or move to Old Trafford.