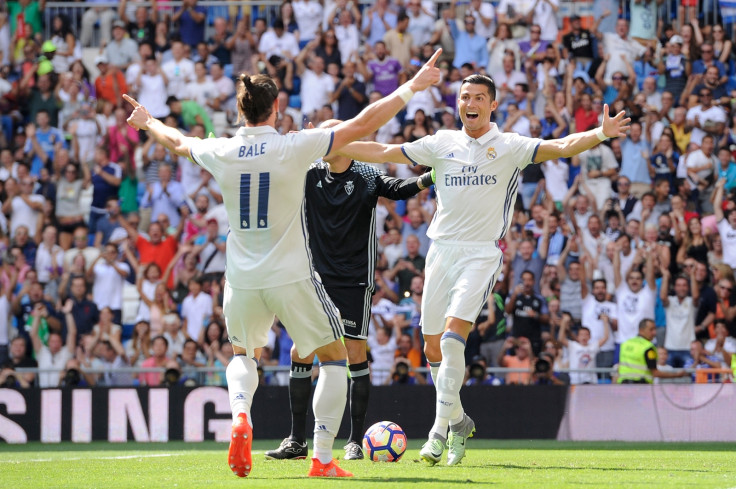 Zinedine Zidane is ready to give an opportunity to Real Madrid fringe players in the Copa del Rey last-32 first-leg tie against Cultural Deportiva Leonesa on Wednesday night (26 October) after leaving Keylor Navas, Marcelo, Cristiano Ronaldo, Gareth Bale and Karin Benzema out of his 16-squad. Sergio Ramos, Casemiro and Luka Modric will also miss the game due to injury but Fabio Coentrao returns following a long-term spell on the sidelines.
Los Blancos are yet to win the Copa del Rey since beating Barcelona in the final in 2013-2014. Last season, while managed by Rafael Benitez, they were disqualified from the competition in bizarre circumstances for fielding the suspended Denis Cheryshev in their fourth-round win over Cadiz.
Zidane expects Real Madrid to fight for the title this season but is ready to make wholesale changes on Wednesday for the visit to third division team Cultural Deportivo Leonesa. He will be without eight regular starters at the Reino De Leon Stadium due to the injuries of Ramos, Casemiro and Modric and his decision to rest Navas, Marcelo and the attacking BBC.
"We're really looking forward to the Cup. We know the importance of this competition and we want to do our utmost to win it. I am very excited and the players are too," Zidane said. "I don't think we'll change the system much but there will be rotations. We have almost everyone available. Coentrão will be in the squad because he has recovered. Casilla will play tomorrow. The idea is that he'll play in the Cup, but I cannot say what will happen in the future. What happens from day to day will dictate what we will do".
Ronaldo will not have the chance to prove the doubters wrong at Leon after he was booed by some Real Madrid supporters during the weekend victory over Athletic Club Bilbao, as the Portuguese international continued his struggling start to the season with another erratic performance.
Zidane has hit back at Ronaldo's critics, pointing out that he was himself jeered by Real Madrid fans as a player before leading them to the Champions League crown in 2002.
"On one hand I do not understand it but at the same time I do. They whistled me as a player," the Real Madrid boss recalled. "The fans demand a lot of players. The Bernabeu is special and we know it. Cristiano knows it and he is used to it. The important thing is to continue with our work and we know the importance of our fans."
"I have not spoken with Cristiano about anything in particular. I prefer that he always scores two or three goals a game but I'm not worried. He's not scoring the chances that he's getting at the moment but the important thing is that he's getting chances. He'll score soon and everyone will relax".
The likes of Alvaro Morata and Lucas Vazquez are thus expected to have a chance to prove themselves against the third division team from the start, amid suggestions that Zidane is not being fair with the Spanish pair due to the untouchable status of the BBC up front.
However, Zidane said: "It's not a matter of people being untouchable. You always ask the same. I have three phenomenal players who are very important for the team. Others may play less but are equally important. There will always be players who play more than others, of course. People can have their say, but I do my job and they are all equally important."