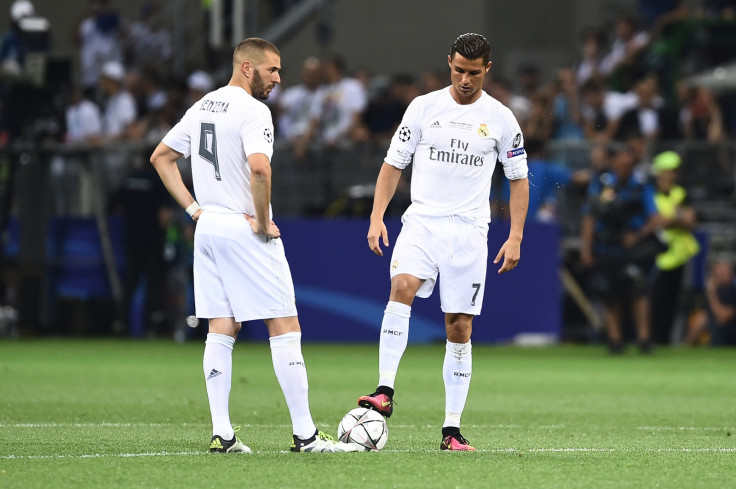 Real Madrid manager Zinedine Zidane has confirmed that Cristiano Ronaldo and Karim Benzema are ready to return to action for the La Liga game against Osasuna on Saturday (10 September) after having been included in his 19-man squad. However, the French boss has ruled out James Rodriguez, Casemiro and Marcelo for the game following their late comeback from international duty. Furthermore, Keylor Navas, Isco and Fabio Coentrao had also failed to make the list due to injury.
Ronaldo is yet to play a game for Real Madrid this season after he suffered a knee strain during Portugal's victory over France in the Euro 2016 final on 10 July. The 31-year-old consequently missed the European Super Cup victory over Sevilla as well the opening La Liga games against Real Sociedad and Celta Vigo.
However, the former Manchester United ace himself said earlier this week that he was fit to play again and now Zidane has confirmed the good news.
"We're happy to have him back with us and we're going to make sure he feels good. It's his first game of the season, it's 60 days since he last played, but tomorrow he'll be with us and he's going to play," the boss said in the press conference ahead of the visit of Osasuna. "Cristiano Ronaldo is an important player for the team and I want him to be with us at all times. There's nothing more to it."
Benzema, meanwhile, also missed the first two La Liga games of the season due to the recurrent problems in his hip. Yet, the Frenchman has also took advantage of the international break to step up his recovery and will be available to face Osasuna.
"Benzema will be with us and that's important too," Zidane confirmed. "He's back to fitness but I can never say for sure that it might not happen again. He feels as good as ever and that's the main thing, he's got no more discomfort. If he's in the squad it's because he's back to 100%. He's a key player for us, it's important that he feels comfortable and he can completely forget about his injury. We'll see with the line-up tomorrow, but the plan is to give him some minutes because he's ready to play."
Zidane, this way, may start his BBC formed by Gareth Bale, Benzema and Ronaldo up front for the first time this season. Yet, he is expected to make some changes in other lines too after having left two key players like Marcelo and Casemiro out of his 19-man squad along with James Rodriguez. Yet, the trio returned to Madrid late in the week following their respective international commitments with Brazil and Colombia.
"James is here with us and he's happy. He isn't in the squad for tomorrow, neither are Casemiro or Marcelo," Zidane explained. "They've come back a bit fatigued, we've got seven games in 21 days and we've got to give everyone a rest. I'm happy to have all the players back here and ready to play. You'll see the line-up tomorrow, we've got players to fill in".
The South American trio will not be the only absentees against Osasuna though. Zidane has confirmed that the game will also come too soon for Navas, Coentrao and Isco as the trio remain on the sidelines.
"Isco is approaching full fitness. He's fine, he just hasn't trained with the group yet, but he'll do that next week," Zidane said when asked about the Spanish international. "Fabio is a different case and we've got to be a bit more patient with him. He wants to play now but there's a recovery plan and that has to be respected."
Meanwhile, speaking about Navas' recovery, he added: "I can't set a date for when he'll be back in the squad. He's happy to be back with us and that's great news, but he's not quite ready to be called up to the squad. We'll see how he feels over the next week".