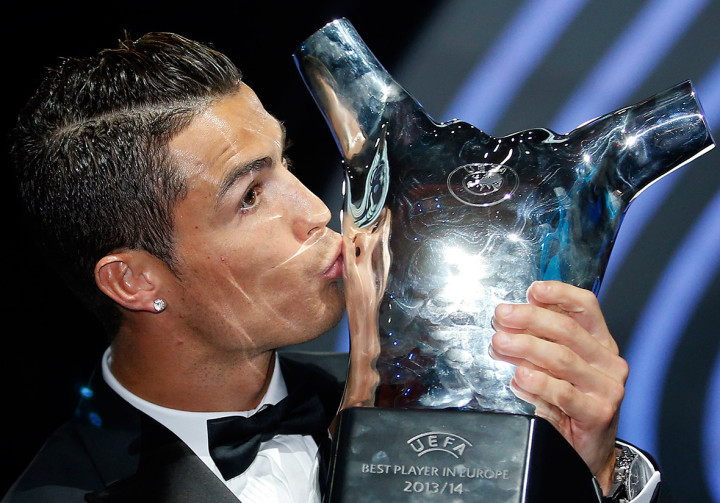 Cristiano Ronaldo is uncertain whether Real Madrid's new squad is better than the one that won the Champions League last season after a busy transfer window at the Santiago Bernabeu.
Manager Carlo Ancelotti has bolstered the team with World Cup stars James Rodriguez, Toni Kroos and Keylor Navas but two crucial players in his line-up last season – Angel Di Maria and Xabi Alonso have left the team – while Alvaro Morata and Diego Lopez also departed.
Ancelotti recently said they had a better team than last season. But in an interview with Marca, Ronaldo was asked whether he agreed with his manager. He said: "We'll see at the end of this campaign whether this Real Madrid team is better or worse than last season's."
"You can buy the top 40 players in the world and still not have a great team. I'm not saying that the players Real Madrid have bought aren't world class but you can't take stock until the end of the season."
Meanwhile, during another interview with Cadena Cope, he revealed his regrets about Real Madrid's decision to sell Di Maria to Manchester United for around £60m – and also Alonso's departure.
"Di Maria and Xabi Alonso have been very important players for us. They did a phenomenal job over the years and I think [they should have stayed] they could have helped us a lot," he said.
Meanwhile, during his unveiling as a new Manchester United player, Argentinian international Di Maria revealed his ex-teammate had urged him to wear his former number seven shirt at Old Trafford.
"I am aware of importance of the number seven shirt," he said. "Cristiano Ronaldo had spoken to me at Real Madrid and told me how important it was. I wanted to wear it and to be able to do as much for the club as Ronaldo and all the others [who have worn it]."