Slough, the Berkshire town maligned by Sir John Betjeman's infamous 1937 poem calling for "friendly bombs" to fall on an area that "isn't fit for humans now", has been the biggest beneficiary of a spike in house prices from the Crossrail infrastructure project.
Crossrail, which will be called the Elizabeth Line when the first of its sections opens in 2018, is a multi-billion pound rail connection linking areas to the west of London with those in the east. It will bisect the city, cutting journey times and relieving heavy pressures on other lines with 40 stations.
Nationwide analysed the effect on house prices of Crossrail stations outside of Greater London — and Slough came out on top. Between May 2010 when the government pledged to complete the project and 2016, the average house price in Slough rocketed 60% to £283,891.
This outperforms the whole of the UK, which saw 20% growth over the same period, and the South East region, which recorded 36% growth. In second place was Windsor & Maidenhead, also connected to Crossrail, which saw its average price rise 51% to £479,058. Slough's relative affordability, particularly compared to London property prices, is an enticement to families looking to move out of the city in search of more space but who want to remain in commutable distance.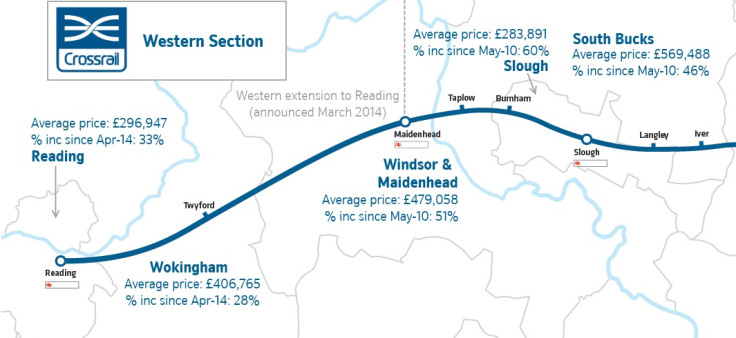 "The new Elizabeth Line is likely to make Slough an attractive proposition for London workers who prefer not to live in the capital as journey times will be around 15 minutes faster into central London and 20 minutes faster to the Docklands," said Andrew Harvey, senior economic analyst at Nationwide.
"It's not just a place to live and commute either, as recent research also indicated that Slough is becoming one of the UK's top creative hubs for business and employment with more and more jobs in advertising, film, radio, TV and publishing popping up in the town.
"Add that to the 'Heart of Slough' regeneration programme and the opening later this year of 'The Curve', a new library and cultural centre, it's clear that Slough is becoming a more attractive proposition for people to live."
Nationwide noted that the eastern section of Crossrail does not extend as far out of London as the western section. Moreover, the east is already well connected to the city. This may explain why house price growth has been more "muted" around stations on the eastern section of Crossrail, according to Nationwide. Prices in Brentwood and Shenfield — the end of the Elizabeth Line — rose 43% over the six-year period compared to a regional average in the East of England of 36%.
"It will be interesting to see if the house price trends seen in both Slough and the wider South East region continue over the next few years as the full service is introduced," Harvey stated.