House prices in London rose by 251% under Margaret Thatcher, the most of any prime minister since 1979, according to research by the estate agency Stirling Ackroyd. Thatcher's reign saw the average price in London lift from £31,370 when she took office to £110,110 when she left in 1990, equivalent to 12.1% a year.
Her Conservative administration unleashed the financial "big bang" by deregulating the City, allowing markets, access to credit and wealth to flourish. Turning the UK into a property-owning democracy was a priority of her government, which through its "right to buy" scheme allowed council tenants to purchase their homes at a discount.
Prices in London rose faster than under the prime ministerships of Labour's Tony Blair or the Conservatives' David Cameron, though they started from a lower base, the price-to-income ratio has rocketed in recent years as wages stagnated after the financial crisis, and a protracted supply shortage is fueling values.
From 1997 to 2007, during Blair's decade in power, another financial boom period, the London average price grew by 209%, from £108,620 to £335,040, or 11.9% per year. Cameron's tenure from 2010 to 2016 saw 53% growth in the average from £332,720 to £507,880, or 7.3% a year.
According to Nationwide Building Society, the average house price to earnings ratio for first-time buyers in London was 3.7 in the first quarter of 1983, when the data begins. By the second quarter of 2016, this had become 10.4. Over the same period, the UK average rose from 2.7 to 5.3, indicating how uniquely rapid London's house price growth has been.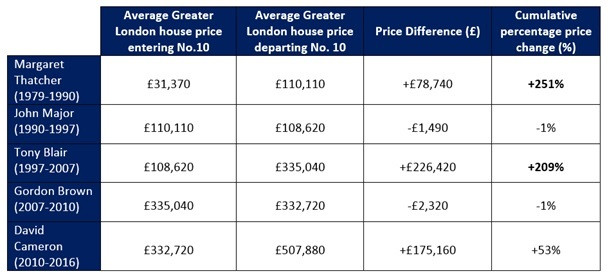 "Under Thatcher's tenure, the property market was turned on its head – seeing dramatic house price growth in London," said Andrew Bridges, managing director of Stirling Ackroyd. "There's always talk of spiralling house price growth in the capital but compared to the 1980s, the rate of growth is lagging behind.
"Even the boom years under Blair couldn't keep up with this pace of growth. Under New Labour London's property market reached new heights, and became a global competitor. As demand soared, so did prices. Places like Shoreditch became solid investments and a buy-to-let surge started, with those properties snapped up still returning a profit today."
Both the conservatives' John Major and Labour's Gordon Brown, prime ministers during times of recession, saw London house prices fall by 1% during their short tenures. And the vote for Brexit in the EU referendum on 23 June, which has sent shock waves through British politics and the economy, may mean Theresa May, the UK's newest prime minister, inherits a stagnant London property market.
"If the pattern developing over the last 38 years is anything to go by, Theresa May could face a static London property market," Bridges said. "The City's property sphere has been pushed to its limits with new legislation and political events in the last."