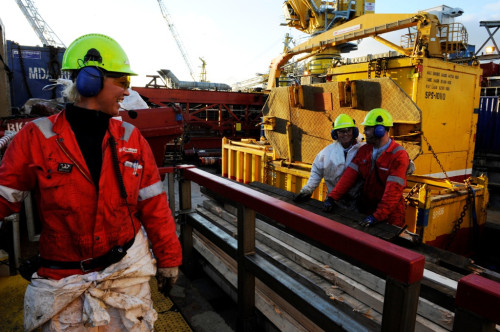 Crude oil futures witnessed mixed trade on 14 February and logged modest gains for the week as a whole, as tepid US economic data raised concerns about energy-demand in the world's leading oil consumer.
March US crude oil contract shed 5 cents, or 0.1%, to finish at $100.30 a barrel on 15 February.
Futures prices rose 0.4% for the week, a fifth consecutive weekly gain.
April Brent crude oil contract ended 56 cents, or 0.5%, higher at $109.08 a barrel on 15 February.
Brent futures inched up 0.2% for the week.
Industrial production in the world's leading economy dropped 0.3% in January, the US Federal Reserve reported on 14 February. The cold wave pulled down manufacturing output by 0.8% and mining output by 0.9%. However, the cold weather boosted utilities' output to 4.1% on heating demand.
Meanwhile, the University of Michigan and Thomson Reuters gauge on consumer sentiment remained unchanged in February.
That "dampened the selling pressure and provided a life line for the crude price," said Naeem Aslam, chief market analyst at AvaTrade
"This week's big winter storm along the East Coast may temporarily slow rising prices due to decreased demand," said AAA spokesman Michael Green.
"[However] overall, it still looks like drivers [in the US] will pay more in the coming weeks as refinery maintenance intensifies," Green told MarketWatch. Oil Refineries are in the middle of the annual spring maintenance period.
Murphy's Asia Plans
American oil and gas firm Murphy Oil could dump some of its Asian oil and gas assets and a deal could rake in up to $3bn, reported Reuters.
Murphy, which is looking to scale down in the region, would follow Newfield Exploration and Hess that have both sold their Southeast Asian operations, partly to address stock price underperformance.
Brent Volatility
Brent crude oil futures retreated earlier in the week, after their biggest advance in three months, as Libya increased production and Saudi Arabia increased shipments in January.
On 10 February, the Brent contract for March lost some 70 cents to $108.87 a barrel on the ICE Futures Europe exchange and hovered at $109.41 as of 12:24GMT. The contract surged $2.38, or 2.2%, to finish at $109.57 a barrel on 7 February, the biggest daily increase since 28 October, 2013.
The European benchmark was at a premium of $9.96 a barrel to the West Texas Intermediate (WTI) crude.
The WTI contract for March shed 42 cents to $99.46 a barrel on the New York Mercantile Exchange. The contract jumped $2.04, or 2.1%, to finish at $99.88 a barrel on 7 February, the highest close since 27 December, 2013.
Opec member Libya continued restoring supplies after protests at its Sharara oilfield ended, according to state-run National Oil.
Meanwhile, Saudi Arabia, which lowered output in January, increased crude sales to 9.916 million barrels a day, an unnamed source told Bloomberg.