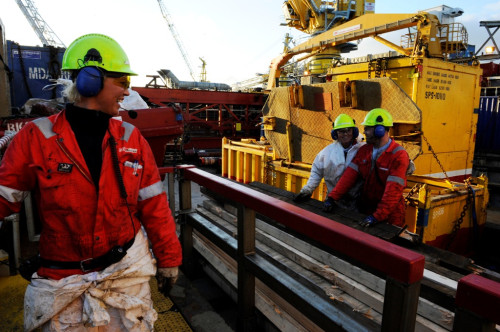 Crude oil futures rallied on 7 February and logged strong gains for the week as a whole, boosted by looming tighter North Sea supplies, higher heating oil and gasoline prices in the US and a rally on Wall Street.
March US crude oil contract jumped $2.04, or 2.1%, to finish at $99.88 a barrel on 7 February.
Futures prices gained 2.5% for the week.
March Brent crude oil contract shot up $2.38, or 2.2%, to finish at $109.57 a barrel on 7 February.
Brent prices gained some 3% for the week.
Analysts said Brent, the European benchmark, was propped up by evidence that North Sea crude oil supplies could be lower than expected in the coming months, reported Reuters.
Loading of the four main crude oil streams - Brent, Forties, Oseberg and Ekofisk (BFOE) – were expected to average 890,000 barrels per day (bpd) in March, down from an expected 1.03 million bpd in February.
European refiners have reduced processing runs and fewer products were being made. Britain's biggest oilfield, Buzzard, would undergo a total nine weeks of maintenance in 2014, in the second and third quarters, rather than the two weeks traders had expected.
In the US, unrelenting cold weather continued to consume heating fuel stocks, pushing up prices. Rising natural gas prices in the US Northeast have forced utilities to bank on fuel oil for electricity generation in the region.
On Wall Street, indices ended higher on 7 February after market players concluded that the US nonfarm payrolls numbers were not so bad after all.
Tariq Zahir, managing member of commodity trading advisor Tyche Capital Advisors in New York told Reuters: "The Brent market definitely helped lift WTI along with the product markets. We're getting to the technical levels that give us instantaneous buying."
Phil Flynn, senior market analyst at Price Futures Group, attributed futures' gains to the Wall Street Rally. "Oil looks like a risk-on rally," Flynn told MarketWatch.
Millan Mulraine, deputy head of US research and strategy at TD Securities, said in a note to clients:"Outside of the disappointment on the headline payroll front, and especially the weak performance in service-sector employment, the underlying guts of [the] employment report were unusually strong.
"The report showed broad-based improvement in a variety of ancillary labor market indicators — pointing to a reduction in labor market slack."