Cryptolocker Lowers Ransom Cost to Offset Soaring Bitcoin Value
Ransomware programme Cryptolocker, which is increasingly being used by cyber-criminals targeting small and medium-sized businesses across the UK, has lowered its ransom price in the wake of bitcoin's soaring value.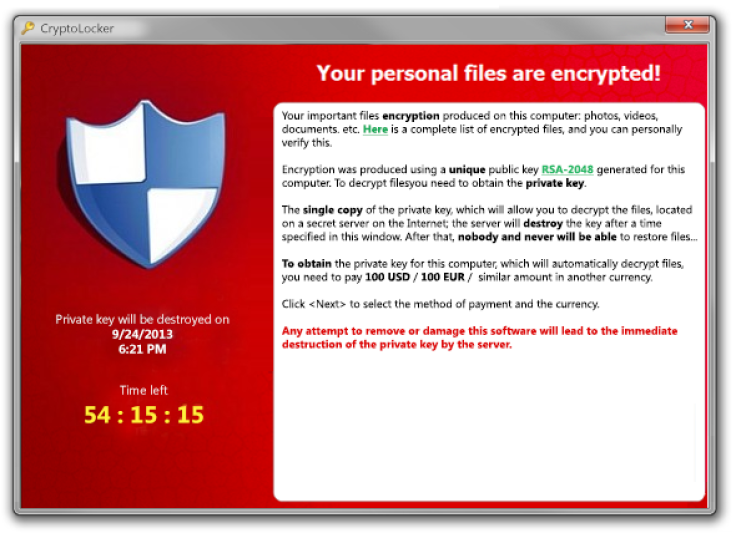 Previously, victims of a Cryptolocker had to pay two bitcoins to gain access to a key to unlock their encrypted hard drive - but since bitcoin's value has surged, the ransom has fallen to 0.5 coins, as first spotted by F-Secure.
CryptoLocker is a particularly pernicious piece of malware that is typically spread as a malicious attachment in emails which look to come from financial institutions or postal services
One bitcoin is currently worth around $730 (£450), but the digital currency's value has risen from just $100 in August, to a high of $900 in mid-November. When Cryptolocker first emerged, each bitcoin was worth around $300.
The Cryptolocker malware is typically spread via email, posing as an attached file seeming to come from a legitimate source. When opened, the software encrypts a variety of files such as photographs and Word documents on the user's hard drive, any connected drives and USB sticks and even folders connected to cloud storage services like Dropbox
The only way to un-encrypt and regain access to the files is to pay the ransom within 72 hours; if it isn't paid, the key is deleted, permanently locking access to the files. the cybercriminals behind the malware have however added a late payment option for a much higher price.
At first it seems the higher bitcoin's value, the more money those behind Cryptolocker will make, but there comes a tipping point where victims decide they either can't afford to pay, or don't think the encrypted data is of enough value to hand over the digital coins.
Following the software's discovery, the UK's National Cyber Crime Unit issued a warning that emails carrying the Cryptolocker malware are targeting tens of millions of UK email addresses, particularly those of small- and medium-sized businesses. Emails containing the software often look like they originate from banks and other financial services.
An education
In early November a police department in Massachusetts, US, handed over two bitcoins worth approximately $750, after a computer belonging to Swansea police department was infected by Cryptolocker.
Swansea Police Lt. Gregory Ryan told the local Herald News: "It was an education for [those who] had to deal with it. [Cryptolocker] is so complicated and successful that you have to buy these bitcoins, which we had never heard of."
Although bitcoin's image has improved following the FBI's shuttering of illegal drug dealing website Silk Road, which dealt exclusively in the digital currency, Cryptolocker's association with bitcoin will appear on the radar of the US Senate, which is currently investigating such currencies with the aim of accepting them as legitimate forms of payment.
© Copyright IBTimes 2023. All rights reserved.