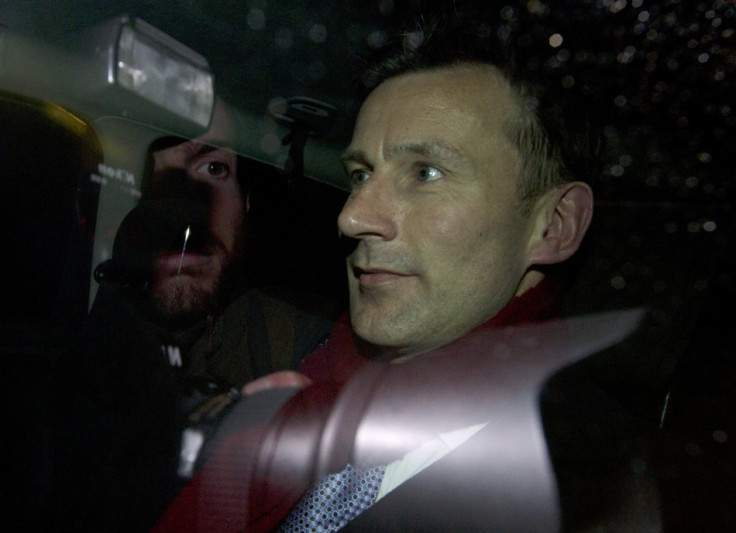 Culture Secretary Jeremy Hunt is to be investigated by the Parliamentary Standards Commissioner over claims he failed to register donations from media companies.
Sir John Lyon has confirmed the office will launch an inquiry following a complaint from Labour MP Steve McCabe. The investigation relates to Hunt's conduct while the Conservatives were in opposition and concerns meetings organised by private companies between July 2009 and March 2010.
These were described as "networking events" by McCabe and involved senior Conservatives who met with figures from the media and creative industries.
Hunt is accused of failing to declare his attendance at eight events hosted by media companies during this time.
Hunt's deputy, Ed Vaizey, recorded the events in the register of interests as donations worth around £27,000 along with his and his boss' attendance, although Hunt himself neglected to do so.
Hunt claims he only attended three of these meetings and said he will amend the register of MPs' interests to reflect this.
A spokeperson for Hunt has said the culture secretary would cooperate with the commissioner's inquiry.
There have already been calls from the Labour Government for Hunt to resign over claims he was too close to Rupert Murdoch's News International when the company was attempting to take over broadcaster BSkyB.
Evidence uncovered by the Leveson Inquiry showed confidential information passing from Hunt's special adviser, Adam Smith, to News International during the company's takeover bid. Smith later resigned after admitting he shared too much information with News Corp during the bidding process.
In a statement released following calls for his resignation, Hunt said: "Now is not a time for knee-jerk reactions. We've heard one side of the story today, but some of the evidence reported meetings and conversations that simply didn't happen.
"Rather than jump on a political bandwagon, we need to hear what Lord Justice Leveson thinks after he has heard all the evidence."