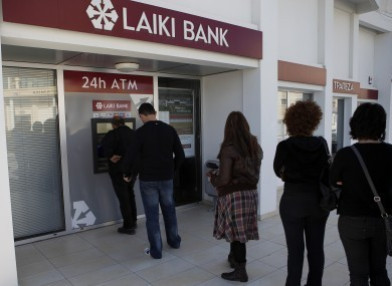 Cyprus has delayed for a second time its planned parliamentary vote on a proposed levy on bank deposits as part of its €10bn bailout with its eurozone partners.
Lawmakers will vote on the deal, agreed this weekend after an extraordinary meeting of eurozone finance ministers, Tuesday at 16:00 GMT in Nicosia. Several media reports have indicated that they wish to manipulate the bank levy in order to quell domestic anger over President Nicos Anastasiades' decision to back-track from an ealier promise to ring-fence savers from the negotiated bailout.
Earlier Monday, European Central Bank Executive Board member Joerg Asmussen told reports on the sidelines of an economic conference in Berlin that Cyprus could change the specific terms of the deal so long as it kept the overall target of raising €5.8bn toward the bailout in place.
"It is the programme of the Cyprus government, and if the government wants to change the terms of its contribution then it can decide so," said Asmussen.
"It is key that the planned fiscal contribution of €5.8 bn remain as such. I want to stress that over the past days it was not the ECB which pressed for this special structure of the contribution which has been chosen now, but rather it was the result of the negotiations in Brussel. We did not insist on this special structure."
Eurozone finance ministers agreed on Saturday to impose a 6.75 percent level on all bank deposits in Cyprus up to €100,000 and a further 9.9 percent on those above the insured threshold. The tax, which has never been applied in any of the four previous eurozone bailouts, is expected to raise around €5.8bn, the leaders said, or 30 percent of Cyprus' tiny GDP. Around a third of the deposits are held by non-Cypriots, analysts with Barclays have estimated.
Depositors will receive shares to compensate for the tax, according to draft terms of the bailout, that will be underpinned by future revenues from the nation's developing natural gas sector.
Lawmakers are said to be attempting to change the terms of the deposit tax, according to several media reports - first published by the Wall Street Journal - with suggestions that the levey on deposits under €100,000 be lowered to 3 percent and the upper threshold raised to 13 percent. Reuters has reported a government spokesperson suggesting an exemption on deposits of €20,000 or less.
Russia's deputy finance minister, Anton Shatalov, told reporters that a levy placed on the interest earned by depositors "would not be horrible and it would be absolutely fair". Russian businesses are major holders of euro-based deposits in Cyprus and Russia has extended more than €2.5bn in bilateral loans to the nation as part of its broader financial rescue. Moody's Investors Service estimates the equivalent of around $12bn is held in Cyprus by Russian savers.
President Anastasiades may struggle to convince his parliamentary colleagues that the tax, which applies for the first time to insured deposits in the nation's banks, is an unavoidable portion of a €10bn financial aid package necessary to avoid a collapse of the country's banking system.
His centre-right Disy party holds 20 seats in the 56-seat chamber and needs a further 9 seats from political rivals Akel and Edek, both of which have vowed to oppose it.
"My decision, to have the hoped-for results, needs the approval of parliament," said Anastasiades in a televised statement.
"I appeal to the parliamentary parties that their decision, one I shall fully respect, is one guided by what is in the best interests of citizens and the homeland."
The vote, originally scheduled for Sunday, has been delayed until at least 4pm London time on Tuesday. The nation's banks were closed today (Monday) for a scheduled public holiday but may not reopen until after the parliamentary vote. If the levy is passed in parliament, banks will freeze the required amount from individual accounts but will allow the free transfer of all other funds.
The European single currency fell the most in 14 months following the weekend agreement, changing hands on foreign exchange markets in Asia at $1.2913 against the US dollar, a 1.3 percent decline from Friday, before paring losses to around $1.2950.