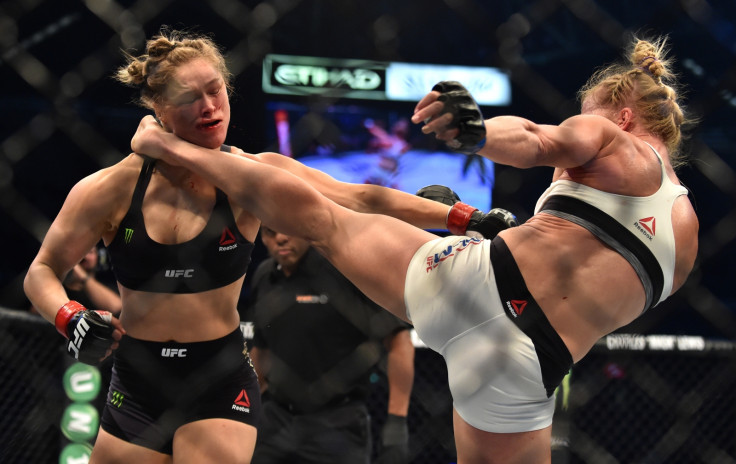 Ronda Rousey still hasn't accepted her knockout defeat to Holly Holm and may have to cut ties with her team if she wants to return to the summit of UFC, according to fighter-turned analyst Dan Hardy.
Rousey's incredible rise saw her become the public face of the world's most notorious MMA promotion, dominating the women's ranks and finishing all but one of her first six UFC fights inside the opening round.
Her world came crashing down in November 2015 however, losing her bantamweight championship when a stunning head kick from Holm condemned her to a first defeat in the Octagon. That loss enforced a 13-month break from action. Her grand return last December at UFC 207 ending in even more devastating fashion when Amanda Nunes recorded a TKO victory in just 48 seconds.
That defeat to Nunes stunned the fight world and has left Rousey's UFC future in severe doubt, with the promotion's president Dana White unsure if she will ever compete again.
Rousey, 30, isn't the first UFC fighter to suffer a major setback in her career and will not be the last. But the manner in which she responded to her devastating defeat to Holm could and should have been handled better, Hardy told IBTimes UK.
Hardy, who has plans to return to the Octagon himself, endured a similarly dark period in his career, suffering four back-to-back losses – including a knockout defeat to Carlos Condit in 2010 – that left his future with the promotion in jeopardy. He says coping with a loss requires a fighter to rewire how they view a fight completely, or they risk never fully recovering.
"When someone is watching an MMA fight, they are watching the person getting beaten up. If you are speaking to a fighter, they are watching the person winning the fight. We don't see the person losing because we [as fighters] don't visualise yourself as that person.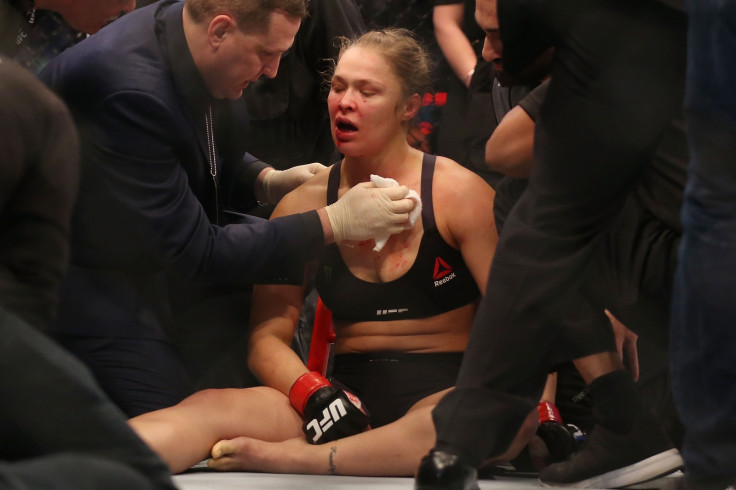 "After you have been knocked out, all of a sudden you start focusing on the person who is losing the fight. Unless you can start rewiring that in your head and start realising that you have the skills to be the person on top winning the fight, then it can burden you and it can slow you down. I think that is what effected Ronda going into her last fight. I don't think she has ever really faced her knockout loss to Holly Holm and it doesn't bode well for a fighter of her calibre and fame."
Rousey's coach Edmond Tarverdyan attracted swathes of criticism following the Holm loss. That criticism returned after the Nunes fight, with Rousey's failure to improve her striking and boxing abilities thrown under the spotlight once again in front of millions of viewers. But both Tarverdyan's and Rousey's failures in-between those two fights go much deeper than just technical shortcomings says Hardy, who feels the former bantamweight champion simply didn't take the opportunity to learn from her mistakes.
"That should have been something her coach pulled her to one side over, they should have sat down, they should have watched it [the Holm fight] 10 or 15 times and talked it through over and over again until she was sick of watching it. My knockout loss to Carlos Condit, it doesn't bother me anymore because I can see the reasons why it happened. I can see the mistakes I made. But if you don't address it, you don't see those mistakes and you don't learn from them."
Rousey's future in the UFC remains in real doubt but if a return does beckon, Hardy feels now is the time for Rousey to distance herself from the people who have let her down.
"Questions were asked about Ronda's boxing skills and I think we got those answers in her last two fights. I think she needs better striking. She possibly needs to find a better striking coach, Edmund has had a lot of criticism in the way he dealt with Ronda over the last two fights and I think that is fair.
"You have got to think where Ronda is at in her career, she is one of the most famous people in sport. So for her to step out of her inner circle and so find somebody else to work with is very difficult for her. She is relying on the people that are already around her and I feel they have let her down."
Part Reptile by Dan Hardy is published by Headline, priced £20.00