Who is Ronda Rousey? Net worth plus all the facts about the women's MMA pioneer
From Olympic medalist to UFC's first female fighter, 'Rowdy' has had an extraordinary career.
Ronda Rousey stands alongside Conor McGregor as one of the most recognisable and successful names in combat sports. Successfully transitioning from Olympic medal-winning judoka to globally renowned mixed martial artist and budding star of the silver screen, the celebrated trailblazer became the UFC's first female signing and reigned supreme as bantamweight champion before seeing her professional reputation decimated by consecutive defeats to Holly Holm and Amanda Nunes. Here is all you need to know about "Rowdy" as she ponders her next move.
Who is Ronda Rousey?
Full name: Ronda Jean Rousey
Date of birth: 1 February, 1987
Home town: Riverside, California
Fights out of: Venice, California
Net worth: $10m (estimate)
Height: 5'7
Weight: 135lbs
Reach: 68"
Leg reach: 38"
Nickname: Rowdy
Trainer: Edmond Tarverdyan
Gym: Glendale Fighting Club
Family: In a relationship with fellow UFC fighter Travis Browne
Twitter: @RondaRousey
Instagram: @rondarousey
Facebook: Ronda Rousey
Hailing from Riverside, California and Jamestown, North Dakota, Rousey faced adversity from an early age in the form of childhood apraxia and the death of her father. Introduced to judo by mother and 1984 world champion AnnMaria DeMars, she competed at the 2004 Olympic Games as a 17-year-old and later claimed junior championship gold.
Having previously won back-to-back titles at the Pan American Games, Rousey, under the guidance of coach Jimmy Pedro, took silver at the 2007 World Championships and followed that up the following year by making history as the first American female judoka ever to win an Olympic medal with a hard-fought bronze in Beijing.
Despite her impressive judo success, Rousey's fearsome exploits inside the octagon is what brought worldwide fame and led to her once being described as the most dominant athlete alive. Leaving the dojo behind at 21, she took a year out before defying cynics and beginning an illustrious MMA career that began in King of the Cage and Hard Knocks fighting before taking in a reign as Strikeforce champion.
Winning all of her opening six bouts courtesy of that signature armbar hold, Rousey later became the first female fighter to sign with the UFC. She defended the bantamweight gold on six occasions before seeing her 12-match winning streak ended via a bone-crushing knockout from Holm. As well as being her maiden defeat, it was only the second time that the 30-year-old had ever been taken past the first round.
Career highlights
Wins silver medal in the 2007 World Judo Championships and later takes gold at the Pan American Games in Rio de Janeiro
Defeats Annett Boehm in the first of two women's 70kg bronze finals at Beijing 2008 to become the first American female judoka ever to win an Olympic medal
Retires from judo at 21 before taking up MMA a year later
Makes her professional MMA debut in March 2011 with a 25-second submission victory over Ediane Gomes at KOTC: Turning Point
Forces Sarah D'Alelio into submission defeat in August 2011 on her first appearance under the Strikeforce banner
Beats long-time rival Miesha Tate in March 2012 to claim the Strikeforce women's bantamweight championship and later defends her title once against Sarah Kaufman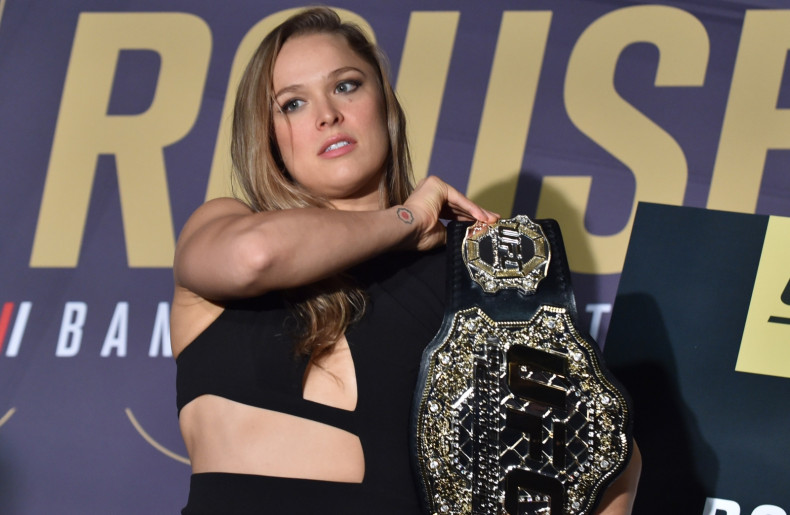 After assuming star status by winning all six of her opening MMA fights in the opening round, Rousey becomes the first female fighter to sign with the UFC in November 2012
Declared as the UFC women's bantamweight champion before submitting challenger Liz Carmouche in the promotion's first female bout at UFC 157 in February 2013
Wins Tate rematch at UFC 168 in December 2013 to chalk up her eighth successive armbar victory before brushing aside Sara McMann and Alexis Davis
Ties UFC record for fastest submission victory in February 2015 with 14-second win over Cat Zingano and later knocks out Bethe Correira
Loses belt and suffers first defeat in November 2015 after being sensationally knocked out in the second round by Holly Holm at UFC 193 in Melbourne
Demolished in 48 seconds by new bantamweight queen Amanda Nunes in December 2016 upon her return to the octagon at UFC 207
Why Ronda Rousey switched from judo to MMA
Rousey's decision to pursue a career in MMA did not go down well initially, with the Californian claiming that her former judo coach "pretty much told me to go (bleep) myself". DeMars reportedly described it at the time as the "dumbest idea she'd ever had".
In her official 2015 autobiography My Fight/Your Fight, Rousey admits that, while judo had not made her happy, not doing it was not making her unhappy either. During her period as a bartender, she was invited to grapple with UFC fighter Manny "The Anvil" Gamburyan at a familiar club.
Rousey made a brief return to judo in 2009 and initially planned to juggle both disciplines before walking away from the former for good. Originally advised against pursuing a career in women's MMA amid a lack of respect and recognition, she simply would not be denied in her admirable quest to radically alter the landscape of the sport forever.
"Somebody can do this," she told Gamburyan. "You can't tell me it's not possible. Who on the f*****g entire planet earth is more qualified than I am?"
Ronda Rousey's film career
Rousey made her Hollywood film debut alongside a roster of action stars past and present by playing bouncer Luna in 2014 flick The Expendables 3. She has since appeared in Fast & Furious 7 and the big screen adaptation of popular HBO series Entourage.
The fight with Amanda Nunes and the implications for Ronda Rousey's career
Rousey admitted that she briefly considered suicide after being emphatically dethroned by Holm and spent 13 months out before being handed a shot at regaining her lost title at UFC 207. While a rematch was her first priority, the women's bantamweight belt quickly passed from Holm to long-time rival Tate during that exile before being decisively claimed by Nunes.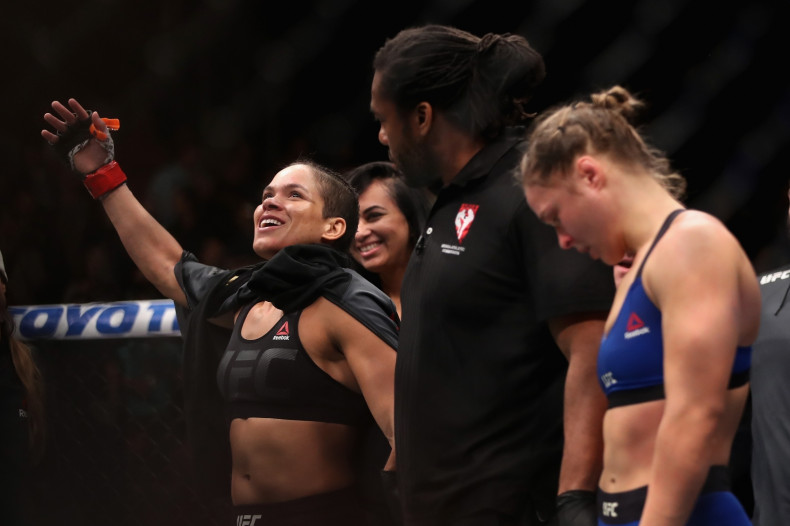 Unable to recapture former glories, Rousey lasted just 48 seconds before succumbing to a vicious one-sided demolition by the talented Brazilian. Another brutal defeat inevitably prompted speculation that she would retire from fighting for good in order to explore new opportunities and take on more acting work.
A possible move to World Wrestling Entertainment (WWE) has also been mooted with Rousey previously appearing alongside The Rock at Wrestlemania 31 to confront Triple H and Stephanie McMahon.
Who sponsors Ronda Rousey?
Rousey's current list of official sponsors include Reebok, Monster Energy and MetroPCS.